Michelle Obama, Gabrielle Union and others are destigmatizing maternal health issues for black women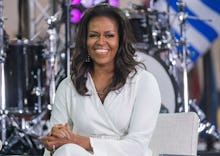 Michelle Obama has revealed in her soon-to-be-released memoir Becoming that she underwent in vitro fertilization to conceive her daughters Sasha, 17, and Malia, 20.
"I realized that as I was 34 and 35," Obama said in excerpts from an ABC special airing Sunday. "We had to do IVF."
Prior to having children, Obama said she "felt lost and alone" after having a miscarriage.
"I felt like I failed because I didn't know how common miscarriages were because we don't talk about them," Obama said. "We sit in our own pain, thinking that somehow we're broken."
Obama is not alone in using her platform to destigmatize the difficulties that come with fertility issues. On Thursday, actress Gabrielle Union shared that she and her husband Dwyane Wade gave birth via surrogate. This is a breakthrough moment for Union, who shared in her 2017 memoir We're Going to Need More Wine: Stories That Are Funny, Complicated and True that she experienced multiple miscarriages. She also has a reproductive health condition known as adenomyosis, which contributed to her infertility, according to Essence.
"We are sleepless and delirious but so excited to share that our miracle baby arrived last night via surrogate and 11/7 will forever be etched in our hearts as the most loveliest of all the lovely days," Union shared on Twitter Thursday. "Welcome to the party sweet girl."
Both Obama and Union are the latest high-profile black mothers to use their platforms to candidly share their pregnancy experiences in 2018.
In the February cover story for Vogue, Serena Williams said a nurse ignored her request for additional medical attention following an emergency C-section to deliver her daughter, Alexis Olympia. In Vogue's September issue, Beyoncé shared that her health was "in danger" while pregnant with her twins Rumi and Sir, and as a result she had to undergo an emergency C-section. In April, Cardi B was adamant about working while pregnant. In August, she posted via Instagram about her postpartum "emotional struggle" after having her baby Kulture.
By these women owning these stories they are removing shame and normalizing these necessary conversations for black women, who disproportionately face a multitude of issues around reproductive justice. These include maternal morbidity and mortality — black women are three to four times more at risk of pregnancy-related death than white women, according to the Centers for Disease Control and Prevention — and the policing of black women's choices to have or not have children, as well as their right to raise children in a safe environment. The mandate to address these issues are included in the framework of the radical reproductive justice movement, founded in 1994 by a group of black women activists.
"People like Serena, Cardi and Beyoncé are changing the narrative," Monica Simpson, executive director of Sister Song, a national women of color-led reproductive justice collective, said in an interview with Mic in April. "They're shifting the way that people are perceiving black women and they're helping people see us for who we really are."
These conversations matter to the grassroots work that organizations like Sister Song and Black Mamas Matter Alliance do every day to end reproductive injustice.
"I think that we need that representation right now to keep going, and I'm appreciating them for doing it even while they still have to keep doing the work that they're doing," Simpson said.