Trump says he doesn't know acting Attorney General Matt Whitaker as questions swirl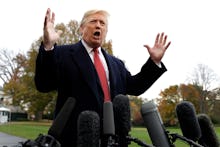 President Donald Trump on Friday distanced himself from newly appointed acting Attorney General Matthew Whitaker, falsely claiming to reporters he doesn't know the man he selected to replace Jeff Sessions at the Department of Justice.
The comments came as Trump faces scrutiny for selecting Whitaker, who has been critical of special counsel Robert Mueller, in what critics say is an effort to obstruct the Russia investigation.
"I don't know Matt Whitaker," Trump said in a press scrum as he left the White House Friday morning. "He was always extremely highly thought of, and still is, but I didn't know Matt Whitaker."
That claim, of course, is false. The Washington Post reported a month ago that Trump had recently talked with Whitaker about replacing Sessions, for whom he served as chief of staff, so the notion that Trump doesn't know him seems patently untrue.
But the president is trying to steel himself against mounting criticism for installing Whitaker this week at the top of his Justice Department as his past comments about the Russia probe, as well as his involvement in a "scam" company, have come to light.
In a now-infamous CNN op-ed in 2017, Whitaker argued Mueller was "going too far" and encouraged Deputy Attorney General Rod Rosenstein, who had been overseeing the probe, to rein in the special counsel. In a separate appearance on the network, where he was a commentator, he floated the idea of starving Mueller's office of DOJ resources to effectively shut down the probe without needing to terminate the special counsel.
Those remarks, along with a number of critical posts about Mueller on his Twitter page, which has since been locked, have raised significant concerns that the president — who routinely calls the Russia probe a "witch hunt" — is seeking to kill or kneecap the FBI's investigation into his campaign.
That inquiry has already brought down several members of his inner circle, including former campaign chairman Paul Manafort and former national security adviser Michael Flynn.
Mueller is said to be preparing his final report on Russia's 2016 election interference and is soon expected to deliver key findings on collusion and obstruction of justice to the DOJ. On Thursday, protests erupted across the country with demonstrators calling for the inquiry to be protected.
Democrats including Rep. Nancy Pelosi (D-Calif.), who is expected to become house speaker in January, have called on Whitaker to recuse himself from the Russia probe in light of his past criticisms of the investigation. But the new acting attorney general reportedly has no plans to do so.
Sessions, the man he was chosen to replace, drew Trump's ire in early 2017 when he recused himself from matters related to the Russia investigation. Trump fired him Wednesday after more than a year of public broadsides.
Whitaker has not only drawn criticism for his critical comments about Mueller. Like others in the Trump administration, he also appears to have been involved in some shady dealings that raise significant concerns about his ethics.
In 2014, Whitaker joined the advisory board of a Miami-based invention-promotion company that was shuttered by the Federal Trade Commission last year for being a scam. According to the Miami New Times, World Patent Marketing ripped off inventors and, in at least one instance, Whitaker appeared to use his status as a former United States attorney to intimidate a frustrated customer who had apparently suggested he would report the fraudulent company to the Better Business Bureau.
Whitaker has also drawn scrutiny for his previous role as executive director of a shady conservative watchdog group called the Foundation for Accountability and Civic Trust, which frequently accuses Democrats — particularly Hillary Clinton — of wrongdoing. Trump still calls for Clinton, his 2016 opponent, to be investigated, while calls to "lock her up" have long been a regular fixture of his campaign rallies.
That Trump is looking to put some distance between himself and Whitaker should perhaps come as no surprise; he has similarly sought to distance himself from a host of other associates amid scrutiny, including his former longtime attorney and fixer Michael Cohen.
Trump did also offer a defense of Whitaker in his comments Friday morning, telling reporters that the acting attorney general is "highly respected" and "top of the line," but he is only facing backlash because of he is associated with Trump.
"It's a shame that no matter who I put in, they go after him," Trump said. "He's acting, I think he'll do a very good job and we'll see what happens."