Mic Daily: Trump was directly involved in illegal hush money payments, prosecutors say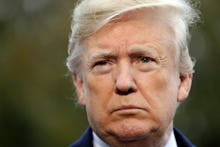 TGIF, dear readers. Congratulations on surviving midterms week. Before you head off into the weekend for some well-deserved relaxation, sit back and soak in the top five stories out of Mic today.
Judge blocks Trump administration's approval of the Keystone XL pipeline
The future of the Keystone XL pipeline, which would run 1,200 miles from Canada to Nebraska and carry over 800,000 barrels of oil per day, is in serious doubt. Read more.
Federal prosecutors have evidence Trump was directly involved in illegal hush money payments
According to the Wall Street Journal, federal prosecutors have evidence President Donald Trump had direct involvement in illegal payments made to porn actress Stormy Daniels and Playboy model Karen McDougal. Read more.
Michelle Obama, Gabrielle Union and others are destigmatizing maternal health issues for black women
In her upcoming memoir, former first lady Michelle Obama reveals she had a miscarriage before giving birth to daughters Sasha and Malia. Eventually, Obama turned to in vitro fertilization for help conceiving — and she's hoping sharing her story will help end the stigma around fertility problems. Read more.
Trump administration weakens birth control and abortion coverage under Affordable Care Act
New rules established by the Trump administration widely expanded employers' power to deny birth control coverage for their employees. Read more.
Airlines waste incredible amounts of food. Here's how some are trying to do better.
The airline industry has a massive food waste problem — and each major airline is working to address the problem in slightly different ways. Read more.
Mic Daily is Mic's newsletter that cuts through the noise and lands in your inbox every weekday. We carefully curate each edition to send you a cross section of our most vital stories of the day.