Who's Sorry This Week: Rebel Wilson, Viggo Mortenson and more public apologies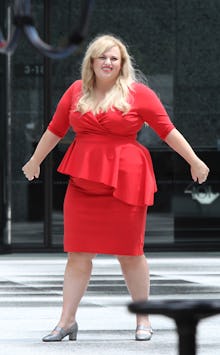 Greetings and welcome to another exciting edition of our regular apology round-up. Hope you all had a happy, healthy and productive workweek.
In Who's Sorry This Week? Mic tracks down the most prominent mea culpas from celebrities, companies and other public entities trying to make amends for their various screw-ups.
Now let's hear those apologies.
Rebel Wilson is sorry for mass-blocking her critics on Twitter
Comedian Rebel Wilson apologized on Monday after she mass-blocked critics on Twitter. Wilson was in hot water for claiming that her role in the upcoming meta-romantic comedy Isn't It Romantic made her the first plus-size lead of a romantic comedy. But when people on social media pointed out that she had forgotten starts like Queen Latifah and Mo'Nique, Wilson initially responded by blocking the people who were calling her out.
But in a Monday Twitter apology, Wilson made amends. "In a couple of well-intentioned moments, hoping to lift my fellow plus-sized women up, I neglected to show the proper respect to those who climbed this mountain before me like Mo'Nique, Queen Latifah, Melissa McCarthy, Ricki Lake and likely many others," she wrote, adding that she had blocked critics "because I was hurting from the criticism, but those are the people I actually need to hear from more, not less. Again, I am deeply sorry."
Frye Festival founder Billy McFarland is sorry for scamming people
Billy McFarland, one of the people behind the disaster that was Fyre Festival, apologized to his victims in an interview with People on Tuesday. McFarland is currently serving time in prison after pleading guilty to multiple counts of fraud for his role in organizing the failed Fyre Fest, which promised guests a luxury, Instagrammable experience and delivered something just shy of a nightmare.
"I've always sought — and dreamed — to accomplish incredible things by pushing the envelope to deliver for a common good, but I made many wrong and immature decisions along the way and I caused agony," McFarland told People. "As a result, I've lived every day in prison with pain, and I will continue to do so until I am able to make up for some of this harm through work and actions that society finds respectable." Can't wait to see what he does next.
Viggo Mortensen is sorry for saying a racial slur during a panel discussion
Actor Viggo Mortensen is very sorry for saying the word "n*gger" during a question-and-answer discussion following a screening of his new film, Green Book, on Wednesday. According to the Hollywood Reporter, Mortensen was trying to make a point about the state of race in America, and progress that's been made, when he told the audience "For instance, no one says 'n*gger' anymore."
Mortensen was reportedly seated next to his Green Book co-star Mahershala Ali when he used the slur. Mortensen later apologized in a statement to the Hollywood Reporter. "In making the point that many people casually used the 'N-word' at the time in which the movie's story takes place, in 1962, I used the full word," Mortensen said.
"Although my intention was to speak strongly against racism, I have no right to even imagine the hurt that is caused by hearing that word in any context, especially from a white man. I do not use the word in private or in public. I am very sorry that I did use the full word last night, and will not utter it again."
South Park sort of apologized to Al Gore
The team behind the long-running Comedy Central animated series South Park sort of apologized to former Vice President Al Gore in a recent episode of the series. According to NBC News, the show's most recent episode, "Time to Get Cereal," returned to a plot point from 2006, which had Gore warning the kids of South Park that a made-up creature called ManBearPig was the "single biggest threat to our planet."
The point of that old episode seemed to be to mock Gore's documentary An Inconvenient Truth and his advocacy about climate change. Well, in this week's episode, the kids realize that ManBearPig is actually a real threat, and they apologize to Al Gore for not believing his warning — a sort of meta apology from the show. All's well that ends well, except climate change is still real.