While You Weren't Looking: 5 stories from the Trump administration that aren't about the midterms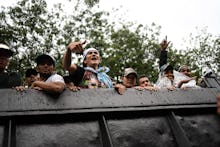 The week of Nov. 4 brought Election Day — but by week's end, the 2018 midterms still weren't over.
In Florida, the closely watched Senate race between Gov. Rick Scott and incumbent Democrat Bill Nelson is headed for a recount and the gubernatorial race between Republican Jim DeSantis and Democrat Andrew Gillum could soon follow.
In nearby Georgia, Democratic candidate for governor Stacey Abrams readied litigation against her Republican opponent Brian Kemp, refusing to concede the race until "we determine that every persons' vote has been counted," an attorney for Abrams' campaign told local news station WRDW.
In the White House, President Donald Trump stewed over the contested election results.
"You mean they are just now finding votes in Florida and Georgia – but the Election was on Tuesday?" Trump wrote in a Friday tweet. "Let's blame the Russians and demand an immediate apology from President Putin!"
While the rest of the country was busy watching the New York Times' election needle, here are five stories from the Trump administration you might have missed.
Judge halts Keystone XL pipeline construction in a major blow to Trump's agenda
After Donald Trump was sworn in as president in January 2017, one of his first official acts was to greenlight the construction of the contentious Keystone XL oil pipeline.
Although former president Barack Obama had previously halted work on the pipeline over concerns that it would wreak environmental havoc, Trump signed an executive order just two days after taking office enabling plans for the project to move forward.
But late Thursday night, Judge Brian Morris of the United States District Court for Montana shot down the government's plans on the grounds that officials had "simply discarded" the environmental and climatic impacts the pipeline was likely to foment, according to the New York Times.
The ruling is a boon to environmentalists and activists who had long sought to prevent the pipeline from being built, including the indigenous peoples who had protested its construction on the grounds that it presented a threat to their water supply.
Trump moves to limit asylum protections for migrants who seek to enter the U.S. illegally
On Friday, Trump announced his latest crackdown on immigration, which comes in the form of a new set of restrictions around asylum protections for those seeking to enter the United States without proper documentation.
Under the latest executive ruling, migrants who illegally cross the southern border of the U.S. from Mexico will no longer qualify for asylum. But the new rules do not apply to migrants who apply for the protections at officially sanctioned ports of entry, or to underage asylum-seekers who arrive without a parent or guardian, according to the Washington Post.
In a "presidential proclamation," released on Friday, Trump announced that the stricter policies were being put in place in anticipation of an approaching caravan of thousands of Central American migrants currently making its way to the U.S. in search of relief from economic hardship, gang violence and government abuses.
"The continuing and threatened mass migration of aliens with no basis for admission into the United States through our southern border has precipitated a crisis and undermines the integrity of our borders," the statement reads in part. "I therefore must take immediate action to protect the national interest, and to maintain the effectiveness of the asylum system for legitimate asylum seekers who demonstrate that they have fled persecution and warrant the many special benefits associated with asylum."
Trump's interim attorney general sparks backlash over past comments
Jeff Sessions is out, and Matthew Whitaker is in.
Not long after Trump abruptly fired Sessions, his embattled attorney general, on Wednesday, Whitaker, the former Department of Justice chief of staff, was tapped to replace him in the interim.
But as acting attorney general, Whitaker would be tasked with overseeing special prosecutor Robert Mueller's investigation into Russian collusion and Trump's critics seized on some of Whitaker's past comments about the probe.
In a 2017 op-ed penned for CNN, Whitaker argued that Mueller was "dangerously close to crossing" the line when it came to investigating Trump's finances, and also previously referred to the probe as "ridiculous" and "a little fishy."
While some prominent pundits took the the pages of the New York Times to call the appointment "unconstitutional," outraged civilians took to the streets by the thousands, marching in solidarity against what they perceived to be a threat to the Mueller investigation.
Interior Secretary Ryan Zinke reportedly eyeing job at Fox News
Interior Secretary Ryan Zinke is reportedly looking for the exit.
Amid three ongoing probes into his conduct — one of which was recently referred to the Justice Department for further investigation — Zinke has reportedly been "exploring potential roles with Fox News, the energy industry or other businesses," according to Politico.
Apparently, Zinke has good reason to believe that the end might be imminent: During a Wednesday press conference with reporters in the wake of Sessions' firing, Trump said that while he's "very happy with most of [his] Cabinet," a post-midterm shuffle might be imminent.
"We're looking at that, and I do want to study whatever is being said," he said of the criminal investigation into Zinke's conduct. "I think he's doing an excellent job, but we will take a look at that, and we'll probably have an idea on that in about a week."
Although Politico reports that Zinke insiders say he has long planned to tender his resignation by the end of the year, the interior secretary has declined to comment publicly on the matter, aside from a Wednesday tweet in which he said he is "look[ing] forward to working" with the newly elected members of Congress.
Trump says he'd mull corporate tax cut "adjustments" to satisfy new Democratic House majority
During a press conference with reporters on Wednesday, Trump said that he'd consider making "an adjustment" to his hard-fought corporate and upper-income tax cuts in order to provide some relief to the middle class.
"[A]s an example, if the Democrats come up with an idea for tax cuts, which I am a big believer in tax cuts, I would absolutely pursue something even if it means some adjustment," Trump said.
While the comment was likely intended to be an olive branch for the newly elected Democratic majority of the House of Representatives, anti-tax activist Grover Norquist told Politico that it was best to take the president's bluster with a grain of salt.
"It was a hypothetical that shouldn't have been answered," Norquist said. "But you can't tell the president not to answer hypotheticals because he does what he wants."
According to the Congressional Budget Office, the GOP tax plan is expected to add $1.9 trillion to the national deficit between 2018 and 2028.