Trump administration weakens birth control and abortion coverage under Affordable Care Act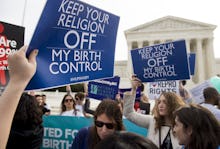 The Trump administration continued its attacks on reproductive health Wednesday, announcing new rules that limit coverage for birth control and abortion under the Affordable Care Act.
The U.S. Department of Health and Human Services announced two rules Wednesday targeting employer health care coverage for birth control. While the ACA previously mandated employers to cover birth control, it provided narrow exemptions for religiously affiliated organizations, which was expanded to include "closely held" for-profit organizations after the U.S. Supreme Court's ruling in Burwell v. Hobby Lobby Stores.
Under the new proposed rules, these exemptions will be expanded even further. The first rule allows employers to deny employees coverage for birth control or abortifacient services — services that induce abortion, rather than serve as contraception — on the basis of their "sincerely held religious beliefs." Employers who will be able to deny coverage on a religious basis include non-profit organizations; for-profit companies, including publicly traded companies; and other non-government employers and institutions of higher learning.
The second rule will allow many employers — though not government entities or publicly traded companies — to deny coverage based on their "non-religious moral convictions." The HHS defined these convictions as being those that an individual "deeply and sincerely holds" and "are purely ethical or moral in source and content ... but that nevertheless impose … a duty." These convictions, HHS noted, must "'certainly occupy … a place parallel to that filled by … God' in traditionally religious persons,' such that one could say the 'beliefs function as a religion.'"
Wednesday's announcement, which has been anticipated since October, comes after the Trump administration previously announced similar birth control rules in October 2017. The rules have since been blocked twice in federal court and are now being appealed by the Trump administration.
Unlike the current rules, the previous rules allowed any employer to discriminate on religious or moral grounds. The HHS also noted the current rule allowing denial on the basis of religion differs from the previous rule "in technical ways to ensure the text and operation of the rule is clear, and that insurers can rely on its procedures."
The two rules will take effect 60 days after Nov. 15, when both rules are scheduled to be published on the Federal Register.
In a fact sheet on the rules, the Trump administration claimed that the new rules should impact only a "small fraction" of people seeking reproductive health care, projecting that it would only affect 200 employers and between 6,400 and 127,000 people.
Policy experts cited by CNN, however, noted the impact could actually be much greater, as hundreds of employers beyond those who have already objected to the ACA requirements could take advantage of the new exemptions. Coverage of birth control pills could also affect a wider range of people than anticipated, as many people use birth control pills for non-contraceptive reasons, such as excessive menstrual bleeding and symptoms of endometriosis and uterine fibroids.
"There is no way to know how many women will be affected," Alina Salganicoff, director of women's health policy at the Kaiser Family Foundation, told CNN.
Advocacy groups have hit back against the administration's new rules and vowed to contest the new rules in court.
"This rule will be used as a license to discriminate and represents a chilling return to the days when the government treated women's sexuality, and thus contraception, as immoral, perpetuating harmful stereotypes that have long been used to discriminate against women," Louise Melling, deputy legal director of the American Civil Liberties Union, said in a statement.
A separate rule will target ACA abortion coverage
In addition to the rules targeting birth control coverage, a separate proposed rule announced Wednesday will target abortion coverage through the ACA. Though no federal tax money can be spent on abortions under the Hyde Amendment — except in cases of rape, incest or when the pregnant person's life is at risk — health insurance plans on the ACA market can cover elective abortion through an added surcharge.
The new proposed rule, which the Trump administration intends to have in place for 2019 coverage, will require health care providers to send an "entirely separate" monthly bill to health care plan holders specifically for the abortion services surcharge, which they will have to pay in a separate transaction from the rest of their health care premium.
The Trump administration's new rule comes amid objections to the current ACA policy from anti-abortion groups. The anti-abortion organization Susan B. Anthony List praised the rule as an "important step in the right direction" in a statement, saying that the rule "provid[es] much-needed transparency about Obamacare's abortion coverage."
Critics, however, believe the new policy could have damaging effects, including burdening consumers and sowing confusion about their health care bills. Megan K. Donovan, senior policy manager at the Guttmacher Institute, said on Twitter that the policy could increase the risk that consumers could miss health care payments and lose their coverage altogether while "serv[ing] no purpose except to make it more onerous for insurers to offer and consumers to get abortion coverage."
The Planned Parenthood Federation of America said in a statement that the policy could make it "nearly impossible" for ACA plans to cover abortion. The organization decried both the abortion and birth control policies as "dangerous" attacks on reproductive health care in the wake of the midterm elections, which — despite a number of anti-abortion wins, including anti-abortion ballot measures in Alabama and West Virginia — elected a number of pro-abortion rights candidates.
"Women resoundingly rejected the Trump-Pence agenda, so Trump and Pence took direct aim at women's health coverage for birth control and abortion," Planned Parenthood executive vice president Dawn Laguens said in a statement. "These rules are dangerous, and not what the vast majority of the American people want. Where the administration has failed them, people now turn to the new pro-reproductive health majorities across the country to stop these attacks on their health and rights.
"Women will remember this attack on their basic health care."