Food and Politics: How Coke and Pepsi tricked Americans into voting against soda taxes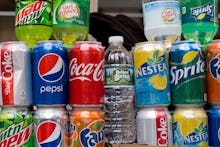 Voters in Washington state on Tuesday elected to pass a measure known as Prohibit Local Taxes on Groceries. After all, it'd be strange to vote against a bill that sounds like it would reduce the cost of supermarket shopping, right?
That's likely the thinking of the Coke and Pepsi executives behind Washington Initiative 1634. Big Soda spent a reported $20 million to promote the initiative, which doesn't do exactly what its name promises. Initiative 1634 prohibits local governments from enacting taxes on groceries, but it doesn't prevent the state from doing so.
"The industry-led campaign 'Yes! To Affordable Groceries' described the measure as 'opposing new taxes on everyday grocery items, such as meats, dairy and beverages,'" Vox reported Wednesday. "But state-level bans on food and beverage taxes increasingly seem to be an effective way for industry to curb the soda tax momentum that's been building."
You can watch one of the ad campaigns for the initiative, which doesn't mention soda once, below.
There's hardly denying the campaign was an act of deception.
"They're calling it a grocery tax measure when nobody in the public thinks of soda when they think of groceries," Laura MacCleery, policy director at the Center for Science in the Public Interest, told Vox. "The ads have pictures of broccoli. But this was never about a broccoli tax. No one wants to tax broccoli."
Soda consumption is strongly linked to obesity, diabetes, heart disease and a host of other conditions, Mother Jones reported, while soda taxes have shown to cut soda drinking.
"At a time of soaring childhood obesity and with more than 1 in 3 adults overweight, health advocates say that soda taxes are an effective way to dampen consumption of sugar-sweetened beverages," the New York Times wrote.
Soda taxes can also help generate funds for other health-focused initiatives.
Big Soda's influence on the outcome of Initiative 1634 is alarming to some public health advocates. "It's a strategy that basically stops innovative policy-making in its tracks," Jennifer Pomeranz, assistant professor of public health policy and management at New York University, told Mother Jones.
Food and politics wasn't all carbonated sugar water this week
A not-so-sweet incident at Gibson's Donuts in East Memphis led to major backlash on Election Day, when the Tennessee donut shop posted a photo to social media featuring Republican Senate candidate Marsha Blackburn being served at the establishment. While Blackburn ultimately won her bid for Senate, thousands of people scorned Gibson's for seemingly promoting the candidate.
In fairness, it does seem like the owners were between a rock and a hard place: "If we had told her (Blackburn) no, we probably would have gotten hit with a lot of negative social media," Gibson's owner Don DeWeese told USA Today. "It was a no-win situation for us."
DeWeese added he would have been "just as happy to host Phil Bredesen," Blackburn's Democratic opponent. "He could come on in and get the exact same treatment," DeWeese said.
In a bit of nicer news, Alexandria Ocasio-Cortez, the youngest woman ever elected to Congress, sat down with Bon Appetit to talk about her experience working in restaurants. In Flats Fix, a taqueria in New York City's Union Square, Ocasio-Cortez recalled where her campaign actually began.
"For 80% of this campaign, I operated out of a paper grocery bag hidden behind that bar," Ocasio-Cortez told the publication.
The congresswoman-elect has worked as a restaurant server and bartender to make ends meet and to help supplement her bid for office. As anyone who has worked in the service industry will tell you, that kind of job teaches you a lot about people — and it definitely builds character.
Finally, though we know President Donald Trump has an affinity for McDonald's food, we recently learned Vice President Mike Pence is more of a waffle fries kind of guy. Pence was spotted at Chick-fil-A in Georgia while campaigning for Republican gubernatorial candidate Brian Kemp.
Politicians: always trying to win our hearts through fast food.