What Melania Trump wore her 94th week as first lady — the one time we saw her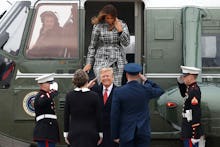 It was a busy week in the world of politics, what with midterm elections, the White House releasing a doctored video to slam a reporter and the departure of Attorney General Jeff Sessions — but it was a quiet one for the first lady.
Melania Trump was barely seen this week, stepping out in public only once on Friday, when she and her husband departed the White House for Paris. The two will spend the weekend with other world leaders, participating in a commemoration of the end of the first World War.
Let's take a look at what the first lady wore when we saw her briefly on Friday.
Friday, Nov. 9: A plaid raincoat for a trip to Paris
Leaving the White House for Andrews Air Force Base and then Paris on Friday, Trump sported a black-and-white plaid, double-breasted raincoat by Burberry that reportedly retails for $2,695. She paired the coated wool raincoat with high-heeled, black boots by Christian Louboutin that likely retail for around $1,400, at least according to FootWearNews.com.
While it was a slow week on the FLOTUS outfit-front, the first couple's jaunt to Paris will likely give us lots more Trump outfits to discuss next week, so stay tuned.
You can read previous recaps of what Melania Trump wore here.