Puebla is giving Mexico's bigger cities a run for their money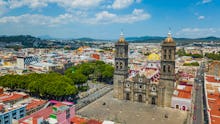 When it comes to colonial Mexican cities, Puebla tends to get overshadowed by better known places like Oaxaca — and that's a shame. Not only does it have storied food traditions and museums that wouldn't be out of place in a cosmopolitan cultural scene, but it's also rich with history. In fact, the Battle of Puebla between the French and Mexican armies on May 5, 1862, is the reason we celebrate Cinco de Mayo. It's also a welcome change from that classic Mexican beach getaway and bustling Mexico City. (The capital is just two hours away by car from Puebla, so it's easy to hit them both in one trip.)
In the gridded streets of Puebla's historic center, you'll find centuries-old churches and buildings covered in colorful, patterned azulejos (tiles). Among the highlights: the gold-leaf covered, 17th-century Rosary Chapel and the Biblioteca Palafoxiana, established in 1646 as colonial Mexico's first public library. After suffering damage during the 2017 earthquake, visitors are once again welcome to see the Biblioteca's immense collection of books dating back to the 1400s.
For something more modern, the Museo Amparo often hosts boundary-pushing contemporary exhibits — a welcome surprise in a destination with so many ties to the past. (Plus, the rooftop restaurant is a great, quiet spot to take in the view.) And, with its undulating walls of white concrete, the Toyo Ito-designed International Museum of the Baroque — a short drive from the city center — has a sleek and eye-catching exterior. But inside, there's room upon room of amazingly gaudy and downright entertaining Baroque art, including paintings, sculptures and interactive exhibits.
As for where to stay, the new 78-room Hotel Cartesiano — set inside meticulously restored buildings from the 1600s — is ideally located, just steps from the zócalo (main square). With a combination of original walls and tiles and site-specific modern artwork, the design is a perfect blend of old and new — just like Puebla itself.
The must-try dish
You can't come to town without tasting mole poblano, made with more than 20 ingredients including cloves, pumpkin seeds and several types of chiles. Try it at El Mural de Los Poblanos or Augurio.
A hidden-gem attraction
At a tucked-away factory and shop called Arte Mexicano El Colibrí, the third-generation owner Emilio Quintana Ramírez hosts cooking classes featuring tortitas de Santa Clara (shortbread-like cookies with a pumpkin seed glaze) and other traditional sweets.
The souvenir to buy
A piece of talavera pottery, a ceramic art form that dates back hundreds of years. The state of Puebla is the only place in the world where you can buy it, and there are only seven certified workshops, including Talavera Armando. To see how it gets made, visit Talavera de la Reyna in nearby Cholula, about 20 minutes away by car.
For more of Mic's Best Places to Travel in 2019, explore our map or view the complete list here.