Bhutan is a hiker's paradise that's slowly opening up to the outside world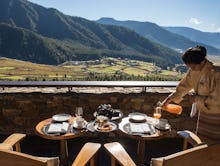 As a way to protect its traditions and culture (famously referred to as "Gross National Happiness"), Bhutan only started welcoming foreigners in 1974. The country, between India and Tibet in the Eastern Himalayas, controls the influx of tourists crowding temples by requiring visitors to pay a minimum daily rate of $250 during high season (March to May, September to November) and book through a tour operator.
But now the tiny Himalayan Buddhist kingdom — the last left on the globe — is relaxing its borders in order to revitalize the economy. It's undergoing a wealth of development as a few big-name brands move lodges into the five main valleys (joining haute neighbors like Aman and COMO Hotels), positioning Bhutan as one of developing Asia's fastest-growing economies. In November, Six Senses is opening 82 villas and suites scattered across five lodges in each of the valleys (with private plunge pool villas in Punakha) and partnering with Paro's local farmers to create a 17-acre sustainable farming village.
Thimphu — one of only two capitals in the world sans traffic lights — will soon funnel tourists to one of the lesser-visited locales, the half-moon-shaped Phobjikha (Gangtey) Valley, once work wraps up on a new road, which will replace the current seven-hour, pothole-ridden ride. One of the valley's hidden treasures is the farmhouse-style, 12-suite Gangtey Lodge — which took three years to construct, complete with hand-carved stone floors sourced from local quarries, English standing tubs, and in-room, wood-burning stoves. In February, Gangtey Lodge will also bring glamping to the valley, launching two luxury tents only accessible via a 30-minute hike.
One must-try dish
While you're there, you'll have plenty of opportunities to sample the national dish, ema datshi, a curry-like stew that consists of chili (ema) and yak cheese (datshi).
The can't-miss attraction
The Bhutanese have turned to tshachus, or hot springs, for centuries as a way to cure body aches and ailments. One of the country's most popular is Gasa Tshachu in western Bhutan, also home to some of the Himalayas' most challenging treks.
Rare animal sightings
Endangered, black-necked cranes migrate from Tibet each winter, and, without fail, loop over the 17th-century Gangtey Goempa monastery a total of three times after arriving in the Phobjikha Valley. The valley is one of the best spots for bird watching and home to the annual black-necked crane festival each November.
For more of Mic's Best Places to Travel in 2019, explore our map or view the complete list here.