Namibia is all about the magical landscapes — and the country is dedicated to protecting them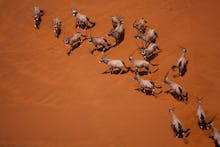 Namibia, the expansive and sparsely populated country on the Atlantic coast above South Africa, has flown under the radar — to the point that President Donald Trump twice called it Nambia in a press conference. But the world is rapidly catching onto its magic — and actual name — partially because it was rumored to be the location of Prince Harry and Meghan Markle's honeymoon, and also because of the buzz surrounding recent openings of awe-inspiring lodges. There is spectacular wildlife (desert-adapted elephants, giraffes, big cats, zebras and all the antelope species one can imagine), but it's the country's diverse landscapes that differentiate it from other safari destinations. "Namibia was the first African country to protect the environment and wildlife in its constitution when it became a country in 1990," Natural Selection safari guide Michael Pohamba Haindongo told me during my trip.
From the world's largest free-roaming black rhino population and the planet's oldest desert (the Namib has existed for at least 55 million years) to Earth's highest sand dune (clocking in at 1,256 feet) and the infamously harsh yet eerily beautiful Skeleton Coast, Namibia is an absolute dream for photographers and nature lovers. Some of the joy-inducing sights include the robust giraffe population contorting their bodies to drink from a water hole or tall giraffe silhouettes as they stroll past a fiery sunset. But where Namibia truly stands out is its otherworldy landscapes, which are surreal in their starkness but also invite visitors to reflect on solitude.
While intrepid travelers to Namibia have had their choice of inexpensive-to-luxury lodges, the offerings are becoming increasingly upscale and thoughtful. The newest options include a trio of Natural Selection lodges, where I stayed as a guest in October. Each of the three lodges are in disparate locations and feel highly individual, such as Shipwreck Lodge, a collection of ship-like cabins on bluffs overlooking the Atlantic. There's also the total redo of Wilderness Safaris' riverside Serra Cafema. In 2019 Habitas plans to open its next hotel on a massive reserve a short drive from the Windhoek airport. But the biggest new arrival might be the debut of Omaanda, the first Zannier Hotels effort in Africa and where I also stayed as a guest. In 2019, Zannier will add a southern Namibia retreat where tents sit atop boulders. Angelina Jolie can take a bit of credit for this new project. She met hotelier Arnaud Zannier in Cambodia while making a film, and convinced him to invest in a reserve and work alongside the N/a'an ku sê Wildlife Sanctuary next door.
Insider intel
Namibia is inclusive, safe and peaceful, especially compared to neighboring South Africa, with which the Namibian economy and currency are tied. The Rand and Namibian dollar are both weak against the U.S. dollar, making travel quite affordable as of late. Indigenous Namibians fought hard for independence, and it shows in their genuine interactions with each other and tourists.
The best way to give back
Local organizations work to educate and end human-wildlife conflict between cattle farmers and carnivores, Visitors can also volunteer with N/a'an ku sê Wildlife Sanctuary (beside Omaanda) and AfriCat Foundation at Okonjima puts you on the front lines of the action, which could mean helping to collar animals and feeding animals that have been injured, orphaned or relocated.
A hidden-gem attraction
The Skeleton Coast, a stretch of beach dotted with whale bones, shipwrecks and seals. It also has pink garnet-dusted sand and one of the world's longest surfable waves — for pros only. Go with a guide to explore the remote destination.
For more of Mic's Best Places to Travel in 2019, explore our map or view the complete list here.