Tofino, on Vancouver Island, has world-class surf and unbelievable seafood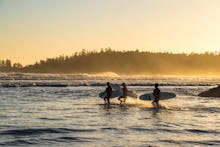 In many ways, it seems the nearly 2,000 residents of Tofino, British Columbia, are folks who visited for a long weekend, a few weeks or a summer, and simply could not leave. Their bodies, or perhaps hearts, wouldn't allow them to. As one transplant now working at Tofino Brewing Co. put it: "If you're meant to be here, it just works out for you." The mellow Vancouver Island town is captivating to artists and has a close-knit community highly supportive of the small local businesses that seriously ramp up its charm quotient.
But the small-town vibes — there is one single taxi, and no Uber — belie the widespread creativity and innovation happening in Tofino. It's tough to decide whether to sing its praises or keep it a secret. Tofino Brewing Co. and the just-opened Tofino Craft Distillery celebrate their bounteous natural environs by using local ingredients like kelp and cedar tips in their brews and gins. Tacofino, a food truck that now has a cultlike following, makes its fish tacos with only the freshest catch, while Picnic makes seafood charcuterie like sea sausage salami with wild-harvested kelp. No restaurant is as much an ode to its home as the aptly named, award-winning Wolf in the Fog (wild wolves do live the town's legendary thick fog), where husband and wife chef and bar manager Nick Nutting and Hailey Pasemko harness foraged, fished and picked ingredients — think matsutake mushrooms, reindeer lichen, sea asparagus and hemlock tips — for their genre-bending family-style plates and crafted cocktails. (They also have a new partnership with 1st Class Fishing where guests can catch their dinner, literally, in the idyllic inlets and off the sparkling coast.)
Food fantasies aside, the landscapes are also dreamy. The Pacific Rim National Park Reserve is full of soldier-straight pines and surrounded by rainforest heavy with moss and mushrooms; the scalloped coastline dotted with mind-blowingly great waves for surfing. Most Tofitians surf, and the water is often populated by more women than men, which makes for fun camaraderie whether you're a beginner taking lessons from the ladies of Surf Sisters or an expert mermaid. Bear tours, whale watching, hiking and biking — it's all about getting out in nature.
Even as it stays small, Tofino's easy appeal increases with each little development — like Pacific Sands Beach Resort's $10 million dollar renovation introducing 43 new suites perched over dreamy Cox Bay, where I stayed as a guest in September. Summer's festivals (whales, wood carving and wine) are matched by attractions year-round, from storm-watching to themed community dinners at Wolf in the Fog.
The must-try dish
The savory, locally sourced Bamfield Seaweed Salad at the can't-miss Wolf in the Fog epitomizes the foraged approach to food that feels so natural in this area. It's the perfect accompaniment to halibut, salmon or albacore tuna, all caught by local fishermen in season.
A can't-miss experience
A trip to soak in the steaming waters of Hot Springs Cove, accessible only by boat and float plane, is one of those hard-to-reach places that is guaranteed to be memorable.
The souvenir to buy
Something crafted. A slew of galleries and boutiques — try Jeremy Koreski Gallery, the Factory and Blue — offer handmade goodies in a range of prices, from totally accessible to aspirational.
For more of Mic's Best Places to Travel in 2019, explore our map or view the complete list here.