Trump, offering no evidence, blames deadly California fires on "gross mismanagement of the forests"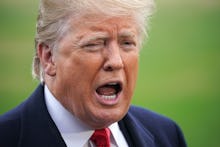 President Donald Trump is blaming "gross mismanagement of the forests" for the deadly wildfires devastating California, threatening in an angry tweet Saturday to cut off "Fed payments" to the state.
He offered no evidence to support his claim that the state's "forest management is so poor," and offered no condolences for the at least nine people who have been killed so far in the blazes.
"There is no reason for these massive, deadly and costly forest fires in California except that forest management is so poor," Trump tweeted early Saturday from Paris, where he is celebrating the 100-year anniversary of the end of World War I.
"Billions of dollars are given each year, with so many lives lost, all because of gross mismanagement of the forests," Trump continued. "Remedy now, or no more Fed payments!"
It's not clear what payments he was referring to in the tweet. He may have been alluding to the Fire Management Assistance Grants the Federal Emergency Management Agency provides California, but those only cost the government a little over $200 million last year, according to ABC News — significantly less than the "billions of dollars each year" Trump described in his angry post.
It's also not clear what he means by "mismanagement," but it isn't the first time he's criticized the state over the fires. In August, he incorrectly blamed "bad environmental laws" for the fires, claiming that responders were unable to use "massive amounts of readily available water" because it was "being diverted into the Pacific Ocean."
But firefighters did not have a shortage of water to battle the blazes, and experts said that hot, dry conditions were actually behind the intense fires.
Such conditions are at least partially the result of climate change, scientists say, and unchecked global warming could make things worse. But Trump famously casts doubt on climate change, and has reversed a number of Obama administration measures designed to combat global warming — including his withdrawing the United States last year from the Paris climate accord, which he deemed unfair to the U.S.
Firefighters are currently battling three blazes in California: one in Butte County in Northern California, and two in Ventura County in Southern California. The exact cause of the fires is not yet known.
One in Ventura County forced people to evacuate their homes in Thousand Oaks, California, where a mass shooting at a country bar Wednesday night left a dozen dead and several others wounded.
Thousands of California residents have had to evacuate due to the fires, and at least nine people have been killed so far. The town of Paradise in Northern California was destroyed in what's being called the "Camp Fire," which began Thursday morning and is said to be the most destructive in the state's history.