Winston Churchill's grandson rips Trump for canceling World War I cemetery visit over poor weather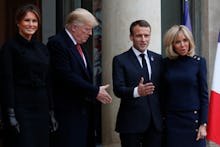 Nicholas Soames, grandson of Winston Churchill and a former member of British Parliament, slammed President Donald Trump for skipping a cemetery visit during a World War I commemoration in France because of inclement weather.
"They died with their face to the foe and that pathetic inadequate [Trump] couldn't even defy the weather to pay his respects to The Fallen," Soames tweeted Saturday, adding that the president is "not fit" to represent the United States.
Trump was in Paris on Saturday to commemorate the 100th anniversary of the end of World War I. In a morning tweet, Trump expressed excitement to "celebrate the end of a war, in particular that one, which was one of the bloodiest and worst of all time."
But he and Melania Trump skipped a planned visit to the Ainse-Marne American Cemetery and Memorial, an American cemetery home to more than 2,000 graves of service members killed in nearby battles, because of "scheduling and logistical difficulties caused by the weather," the White House said Saturday. Chief of Staff John Kelly and Chairman of the Joint Chiefs of Staff Gen. Joe Dunford were to attend in the president and first lady's absences.
Trump received some criticism online for missing the memorial, including from Rep. Eric Swalwell (D-Calif.), who echoed Soames in calling it an "embarrassment [that Trump] can't find his way to honor our fallen."
"To win World War I, brave Americans fought through snow, mud, & sand with bombs dropping from above, landmines in the ground below, & bullets flying at their faces," Swalwell tweeted. "The least of their worries was rain."
David Frum, a journalist and former speechwriter for former President George W. Bush, also slammed Trump for skipping the memorial, writing on Twitter that "it's incredible that a president would travel to France for this significant anniversary — and then remain in his hotel room watching TV rather than pay in person his respects to the Americans who gave their lives in France for the victory gained 100 years ago tomorrow."
"These troops fought victoriously alongside allies with whom the U.S. still stands today," Frum added in a later tweet. "It's worth a few miles in a limo, a few words from under a tarp."
Ben Rhodes, an aide to former President Barack Obama, offered perhaps the harshest criticism of Trump's absence at the memorial Saturday, calling the move "pathetic, disgraceful and embarrassing."
Rhodes also noted that Trump should have had a "rain option" to honor fallen U.S. servicemembers in the event of foul weather, and praised Canadian Prime Minister Justin Trudeau for attending a memorial for Canadian veterans at Vimy Ridge — also in Northern France.
"This is what an actual leader does," Rhodes tweeted of Trudeau.
Trump arrived in Paris late on Friday as tensions grew between him and French President Emmanuel Macron, including over a recent comment by Macron that a "real European army" is necessary to protect the continent from the U.S., Russia and China. Trump on Friday called the suggestion "very insulting."
He met with Macron Saturday, and is still expected to attend a ceremony at the Arc de Triomphe in Paris Sunday honoring Armistice Day — marking a century from the end of the Great War.
But he will skip Macron's Paris Peace Forum, flying back to the U.S. on Sunday before the global forum begins.