This Week in Trump-Russia News: Trump makes his biggest move yet in effort to undermine Mueller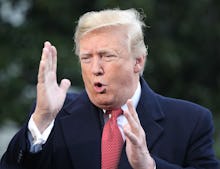 Well, it finally happened.
After more than a year of "will he/won't he," President Donald Trump this week at long last terminated Jeff Sessions — the attorney general he believes betrayed him in recusing himself from the Russia probe and failed to adequately protect him from special counsel Robert Mueller.
The move itself did not come as a surprise, though the manner in which he sacked the former Alabama senator was a bit jarring; word of the firing Wednesday came just after Trump refused to comment on Sessions' job security during a testy post-midterms briefing with reporters.
But what was surprising, perhaps, was the selection of Matthew Whitaker to replace Sessions at the top of the Department of Justice, given how critical the new acting attorney general has been toward the probe he'll now oversee. Trump has made no secret of his disdain for the Mueller inquiry, taking potshots at the so-called "witch hunt" any chance he can get. But in taking the reins from deputy attorney general Rod Rosenstein, who has repeatedly protected the investigation, and handing them to Whitaker, who has been a public critic of Mueller, the president has launched his strongest, most blatant attack on the special counsel — and opened himself up to another round of accusations of obstruction of justice.
Here's what to make of a dramatic week in the Russia probe — and what it all means for the fate of Mueller's findings.
Sessions out after year of public insults
Sessions was widely expected to be gone after the midterms, and Trump certainly wasted no time in dispatching the embattled attorney general.
In a letter Wednesday, Sessions resigned from the Trump administration "at [the president's] request." He thanked Trump for the "opportunity" to serve in his administration and expressed his gratitude to those he worked with at the DOJ.
"Since the day I was honored to be sworn in as Attorney General of the United States, I came to work at the Department of Justice every day determined to do my duty and serve my country," Sessions wrote in the undated letter. "I have done so to the best of my ability, working to support the fundamental legal processes that are the foundation of justice."
The resignation capped a lengthy saga in which Sessions, one of Trump's earliest and most ardent supporters, was subjected to more than a year of withering public attacks from the president.
Trump's ire toward his attorney general came to the public's attention last July, when he told the New York Times that he wouldn't have hired Sessions had he known he would've recused himself from matters related to the Russia probe.
In the year and a half since, Trump has continued to bash Sessions over Russia, and for being "weak" in not investigating his political opponents like Hillary Clinton.
Trump taps Mueller critic to supervise Russia probe
Shortly after the resignation was reported, Trump announced he had named Whitaker, Sessions' former chief of staff, to serve as acting attorney general.
"He will serve our Country well," Trump tweeted Wednesday.
The move immediately drew heavy scrutiny, as Whitaker's past comments on the Russia probe — including a CNN op-ed in which he said Mueller was "going too far" and a CNN panel appearance in which he suggested starving the special counsel of DOJ resources — resurfaced in the media.
As criticism mounted, Trump sought to distance himself from Whitaker, who is also facing scrutiny for his involvement in a scam company that was shut down by the Federal Trade Commission last year.
"I don't know Matt Whitaker," Trump falsely claimed to reporters on Friday.
But he also defended his new acting attorney general as "top of the line," and said in a later tweet Friday evening that feels "certain he will make an outstanding Acting Attorney General!"
Democrats call on Whitaker to recuse himself
But Democrats and other critics of the administration are highly skeptical of Whitaker's appointment, calling on the new acting attorney general to step away from the Russia probe.
"It is impossible to read Attorney General Sessions' firing as anything other than another blatant attempt by [Trump] to undermine & end Special Counsel Mueller's investigation," Rep. Nancy Pelosi (D-Calif.), who is expected to again become House Speaker when the new Democratic majority takes control of the House in January, tweeted Wednesday. "Given his record of threats to undermine & weaken the Russia investigation, Matthew Whitaker should recuse himself from any involvement in Mueller's investigation."
That appears to be a nonstarter for Whitaker, though, who reportedly has no plans to recuse himself from the matter.
DOJ shakeup could impact Mueller investigation
The dramatic moves could pose a serious threat to Mueller, who is believed to be preparing his final report and is expected to deliver his key findings to the DOJ in the coming weeks.
His supervisor — who is now Whitaker — will be responsible for deciding what's done with the special counsel's conclusions, including whether the report or parts of it are made public. He also likely has the authority to terminate Mueller, though it's not clear that would be enough to derail the investigation this late in the game.
That threat has led to an outpouring of support for Mueller. Democrats have called for legislation to protect the special counsel, and protesters across the country have demanded the investigation be allowed to continue without interference.
Republicans, though, have offered little to no pushback in response to Trump's big moves. Sen. Lindsey Graham (R-S.C.), who once famously said there'd be "holy hell to pay" if Sessions was fired, accepted the move, saying in an interview that "every president deserves an attorney general they have confidence in and they can work with."
"When was that? What year?" Graham asked Fox News host Martha MacCallum when presented with his warning against terminating Sessions.
"July of 2017," she replied. "Things have changed."
"Yeah," Graham said with a laugh.
There have been a couple Republican exceptions, however.
Retiring Sen. Jeff Flake (R-Ariz.), who has been known to criticize the president, said in a tweet Thursday that he and Sen. Chris Coons (D-Del.) will bring a vote next week on a bill to safeguard the Mueller probe.
"It is more important than ever to protect the Special Counsel," Flake said.
Sen. Susan Collins (R-Maine), who expressed concern this week about Whitaker's statements about the Russia probe, also called for a vote to protect Mueller.
"Senate debate and passage of this bill would send a powerful message that Mr. Mueller must be able to complete his work unimpeded," she said in a statement Friday.
But it doesn't appear likely to happen right now, as Senate Majority Leader Mitch McConnell has maintained that the investigation is not under threat and therefore doesn't need to be protected.
"It's not going to come up because it isn't necessary," McConnell said Friday.
Still, Democrats will soon have some authority to push back when they take over control of the House of Representatives in January. They have already indicated they plan to investigate Sessions' ouster when they come into power, and could even bring in Mueller for televised testimony about his investigation next year.
Trump resumes attacks on Mueller
Meanwhile, Trump has revived his attacks on Mueller as the investigation appeared poised to return to the fore after taking a lower billing in the news cycle for a few weeks ahead of the midterms.
In an election postmortem Wednesday, Trump lashed out at the special counsel, again asserted that he did not collude with the Kremlin or seek to obstruct the FBI inquiry into his campaign and raged at reporters who dared ask him questions related to the matter.
He also made light of Russia's 2016 attack on the American electoral system as he raged about recounts in Arizona, Georgia and Florida's elections.
"You mean they are just now finding votes in Florida and Georgia — but the Election was on Tuesday?" Trump tweeted. "Let's blame the Russians and demand an immediate apology from President Putin!"