Lt. Dan Crenshaw appears on 'SNL' after Pete Davidson comes under fire for mocking congressman-elect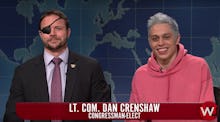 Comedian Pete Davidson came under fire for a recent Saturday Night Live joke at the expense of Lt. Cmdr. Dan Crenshaw — and on Saturday night, the Republican congressman-elect got his revenge.
In a Weekend Update segment Saturday, Davidson addressed his comments in SNL's prior episode, when he came under fire for jokingly comparing Crenshaw, who wears an eye patch, to a "hit man in a porno movie." He then followed up by saying, "I'm sorry. I know he lost his eye in war or whatever."
Crenshaw is a Navy SEAL veteran who lost his eye from an IED while serving in Afghanistan. He will go to the U.S. House of Representatives in January after winning his first general election Tuesday in Texas' 2nd District.
"In what I'm sure was a huge shock for people who know me, I made a poor choice last week," Davidson said Saturday in his apology.
"It was a poor choice of words. The man is a war hero and he deserves all the respect in the world, and if any good came of this, maybe it was for one day, the left and the right finally came together to agree on something: that I'm a dick."
Crenshaw then appeared at the Weekend Update desk, asking Davidson, "You think?"
"Thanks for coming," Davidson told Crenshaw.
"Thanks for making a Republican look good," Crenshaw responded.
Davidson then clarified to viewers why Crenshaw wears an eye patch, before Crenshaw got his chance to take his own swipes at Davidson. Crenshaw's cell phone rang, playing the song "Breathin" by Ariana Grande, who recently ended her much-publicized engagement to Davidson.
"Oh, do you know her?" Crenshaw jokingly asked Davidson about Grande.
Davidson then offered Crenshaw the chance to get him back by "making fun" of a photo of Davidson.
"This is Pete Davidson," Crenshaw said as a photo of Davidson was displayed. "He looks like if the meth from Breaking Bad was a person."
Crenshaw followed up his joke with two other jokes at Davidson's expense, describing him as "a Troll doll with a tapeworm" and saying he "looks like Martin Short in the Santa Clause 3."
"By the way, one of these people is actually good on SNL," Crenshaw added as photos of Davidson and Short were shown onscreen.
While Crenshaw was quick to get in on the joke and take aim at Davidson, however, the congressman-elect also offered a serious message to viewers ahead of Veterans Day.
"OK, but seriously, there's a lot of lessons to learn here," Crenshaw said. "Not just that the left and right can still agree on some things, but also this: Americans can forgive one another. We can remember what brings us together as a country and still see the good in each other.
"This is Veterans Day weekend, which means it's a good time for every American to connect with a veteran; maybe say 'Thanks for your service.' But I would actually encourage you to say something else. Tell a veteran, 'Never forget.' When you say 'Never forget' to a veteran, you are implying that as an American, you are in it with them. Not separated by some invisible barrier between civilians and veterans, but connected together as grateful fellow Americans, who will never forget the sacrifices made by veterans past and present. And never forget those we lost on 9/11 — heroes like Pete's father. So I'll just say Pete, 'Never forget.'"
"Never forget," Davidson responded. "And that is from both of us."