Republicans defend Mueller probe as Democrats vow action if new AG Whitaker doesn't recuse himself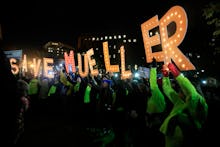 Politicians on both sides of the aisle defended special counsel Robert Mueller's investigation Sunday, as the recent resignation of U.S. Attorney General Jeff Sessions and appointment of new Acting Attorney General Matthew Whitaker has thrown Mueller's future into doubt.
Whitaker will be taking over the Mueller investigation from Deputy Attorney General Rod Rosenstein — and Whitaker brings with him a history of criticism of the probe. His past comments have led many to speculate that the investigation's days could be numbered and call on Whitaker to recuse himself from the investigation.
In interviews Sunday, however, Republicans denied the Mueller investigation is at risk. White House adviser Kellyanne Conway said on Fox News Sunday that it "would be a mistake to try to shut down the Mueller investigation ... because we've been so compliant."
When asked about the probe in a separate interview on ABC's This Week, Conway said she doubted President Donald Trump would ask Whitaker to shut down the investigation "because it would prolong it," adding she didn't think either a Democratic or Republican Congress would "allow that."
"We've been compliant, it's going to go on, nobody's interrupting it or interfering with it," Conway said on ABC.
Sen. Cory Gardner (R-Colo.) added his support for the Mueller investigation in an interview Sunday on Meet the Press, saying it is "important for the American people."
"I support the Mueller investigation," Gardner said. "I know I've heard Senator McConnell say he supports the Mueller investigation. It's important for the American people. It's important that we have this for transparency. And I think it's important for the president to have this information out there fully, transparently, and accurately."
Gardner wouldn't voice support for legislation that could protect the investigation, however. He told host Chuck Todd that "Mueller is not going to be stopped" and the investigation should continue. When pressed further about whether he supports the legislation, Gardner asked Todd, "If it's going to continue, why protect something that's continuing?"
Democrats, on the other hand, on Sunday signaled their plans to actively take steps to defend the Mueller investigation. Saying that Whitaker's appointment "should concern every American," Senate Minority Leader Chuck Schumer (D-N.Y.) said in an interview on CNN's State of the Union that Democratic leaders were sending a letter to the chief ethics officer at the U.S. Department of Justice asking them to issue guidelines whether Whitaker should recuse himself, noting that similar guidelines prompted Sessions' recusal from the investigation.
If that doesn't work, Schumer said Sunday that Democrats plan to attach legislation protecting the special counsel investigation to a spending bill, which would require Democratic support to pass. Schumer said he believed the bill would garner bipartisan support but didn't rule out the possibility of potentially forcing a government shutdown over the legislation, telling host Jake Tapper, "we'll see what happens down the road."
Democrats also plan to take action once they take control of the House in January if Whitaker is still in the position. Rep. Jerry Nadler (D-N.Y.), who is expected to head the House Judiciary Committee, said in an interview on State of the Union that protecting the Mueller investigation was "the first thing" he would move to do.
"The president's dismissal of Attorney General Sessions, and his appointment of Whitaker, who is a complete political lackey, is a real threat to the integrity of that investigation," Nadler said.
"That investigation is of utmost importance in making sure that we adhere to the rule of law and that the administration is held accountable. And we will certainly hold hearings on that. Our very first witness after January 3, we will subpoena, or we will summon, if necessary subpoena, Mr. Whitaker."
Nadler said House Democrats would ask Whitaker about "his expressed hostility to the investigation" and "how he can possibly supervise it when he's expressed, when he's come out and said that the investigation is invalid."
In a separate interview on ABC, Nadler added that if Mueller does get fired, his findings could still see the light of day. House Democrats could subpoena Mueller and compel him to testify on the investigation, or subpoena the final result.
"We could subpoena Mueller and ask him in front of the committee, 'What was in your final report?'" Nadler said Sunday on ABC. "Those are things we could do.
"But the fact is any such interference would be a pattern of obstruction of justice. ... [Whitaker] should recuse himself because he has expressed total hostility to the investigation, he has said the investigation shouldn't go forward, and someone who's said that should not be in charge of deciding on the investigation."