Hype Daily: These celebs are among those affected by California fires and more entertainment news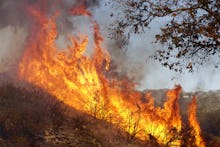 Good morning readers and happy Monday — let's kick off another week with a healthy dose of weekend entertainment news. Here's everything you missed while you were out living it up.
The deadly California fires have affected a number of celebrities
The devastating fires currently burning in California have claimed at least 31 lives, according to CNN, and driven hundreds of thousands from their homes — including celebrities. Lady Gaga, Martin Sheen and Kim Kardashian West all evacuated their Malibu homes, the Associated Press reported. And, according to CNN, Neil Young, Gerard Butler and Miley Cyrus all lost their homes to the blaze.
In a tweet, Cyrus wrote, "Completely devastated by the fires affecting my community. I am one of the lucky ones. My animals and LOVE OF MY LIFE made it out safely & that's all that matters right now. My house no longer stands but the memories shared with family & friends stand strong."
The People's Choice Awards happened on Sunday night
The 2018 People's Choice Awards happened on Sunday night, and if you didn't watch the awards show on E!, here's what you missed. The California fires obviously came up — Mila Kunis urged everyone to donate to the Los Angeles Fire Department Foundation to support the firefighters currently working to curb the blaze, according to USA Today. And Kim Kardashian West mentioned both the fires and the deadly mass shooting at the Borderline Bar & Grill in Thousand Oaks, praising "the firefighters, the law enforcement and the first responders."
Veteran's Day also came up at the awards show — activist Bryan Stevenson received an award for his work, and told the crowd in his acceptance speech, "It's Veterans Day, it's important that we honor all our veterans, but it's important to remember that black veterans after World War I and World War II were menaced and targeted and lynched because of this narrative of racial difference, and today we're still burdened by that history."
If you're curious about who and what actually won awards, you can check out a full winners list here. A TV show called Shadowhunters won big — go figure.
Your weekend box-office round-up
Dr. Seuss' The Grinch dominated the box office over the weekend, and it's not even really the holiday movie season yet. It raked up $66 million in ticket sales in the U.S. and Canada, according to the Associated Press. The Queen biopic Bohemian Rhapsody was bumped down to second place, earning an additional $30.8 million over the weekend. And the Nazi horror-thriller Overlord rounded out the top three, earning $10.1 million in the U.S. and Canada.
John Boyega and Letitia Wright will star in a space romance together
Black Panther's Letitia Wright and Star Wars' John Boyega are going to star together in a space-romance movie called Hold Back the Stars that is probably going to make me cry. According to Deadline, the film, based on a sci-fi novel by the same name, is about two lovers trapped in outer space with only 90 minutes of oxygen, who reminisce about their time together on Earth. Yep, I'm definitely going to cry.
Put this on your radar: The Ballad of Buster Scruggs
Streaming giant Netflix is dropping a bunch of new movies and shows on Friday, including The Ballad of Buster Scruggs, a new Netflix movie from directing duo Ethan and Joel Coen. The movie is a "Western anthology," according to Deadline, and stars a cast that includes Liam Neeson, James Franco, Zoe Kazan and Tom Waits. Check out a trailer here.
This has been Hype Daily, Mic's morning entertainment roundup. It's everything you need to catch up on in the entertainment world and what to look forward to today. Want to receive this as a daily email in your inbox? Subscribe here.