How Victoria's Secret normalized discrimination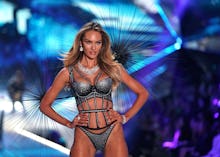 It doesn't take a fashion insider to recognize that when it comes to plus-size and transgender women, as well as gender nonconforming people, Victoria's Secret would rather maintain a closed door policy. Since the brand's first runway show at the Plaza Hotel in New York City in August 1995, not a single plus-size or out transgender or gender nonconforming person has walked in the show's 23-year history. 
The reality that Victoria's Secret discriminates against plus-size, transgender and gender nonconforming people became explicitly clear after L. Brands' chief marketing officer Ed Razek gave a telling interview with Vogue published on Thursday. (Victoria's Secret is the flagship brand under fashion retailer L. Brands' portfolio, which once included plus-size retailer Lane Bryant until the company was sold in 2002.)
The headline for the Victoria's Secret profile, written by Nicole Phelps — "'We're Nobody's Third Love, We're Their First Love' - The Architects of the Victoria's Secret Fashion Show Are Still Banking on Bombshells" — did nothing to indicate controversy. But a Jezebel story released on Friday titled "Victoria's Secret Doesn't Want Plus-Size or Trans Women Walking the Runway," cut out Vogue's attempt at relationship maintenance in favor of highlighting a buried-in-plain-sight truth.
On addressing the industry shift of recognizing a more diverse consumer, Razek said this:
I think we address the way the market is shifting on a constant basis. If you're asking if we've considered putting a transgender model in the show or looked at putting a plus-size model in the show, we have. We invented the plus-size model show in what was our sister division, Lane Bryant. Lane Bryant still sells plus-size lingerie, but it sells a specific range, just like every specialty retailer in the world sells a range of clothing. As do we. We market to who we sell to, and we don't market to the whole world. We attempted to do a television special for plus-sizes [in 2000]. No one had any interest in it, still don't.
He quickly pivoted to spouting overt lies, saying "Our show is the only branded special in the world, seen in 190 countries, by 1 billion 6 million people; 45% more people saw it last year than the year before." In truth, the 2017 show sunk nearly 30% from its previous 2016 low pulling in just under 5 million viewers, according to the Hollywood Reporter. Sales, similarly, continue to slip at staggering rates.
Doubling down on the hateful speech, Razek used the justification of the show being "fantasy" to excuse the lack of casting of transgender models (whom he called "transsexuals," a term that is often but not always considered pejorative). "Shouldn't you have transsexuals in the show? No. No, I don't think we should," he said. "Well, why not? Because the show is a fantasy. It's a 42-minute entertainment special. That's what it is."
This was a powerful white man — caught on the record — asserting a disregard for truth and an unflappable arrogance toward the livelihood of other human beings. Sound familiar?
By Friday night, after the backlash had escalated to an untenable degree, Razek, through Victoria's Secret's Twitter account, issued a rare apology. The four-sentence message addressed the comment surrounding trans women, saying he would cast trans women despite never having done so, and ignored that he had said nobody had any interest in plus-size women.
In what could be perceived as a rebuke of the statements, current Victoria's Secret model Kendall Jenner — arguably their most high-profile employee — shared an Instagram story over the weekend of a pin with the words "celebrate trans women." Former VS models Karlie Kloss and Lily Aldridge shared an art piece from activist Wednesday inscribed with the words "Trans and GNC people are not a debate." Similarly to Rezak's apology, no mention was made of plus-size women.
It is worth noting here that there are systems in place that can put real monetary consequences on those that choose to speak out against a brand as high profile as Victoria's Secret. Speaking out can affect other brands' and companies' willingness to take on a certain model as a client. Silence from VS models should not be seen as overt complicity. While VS models past and present remained largely silent, others did not.
The thing about many plus-size, transgender and gender nonconforming people is that, thanks largely to social media, their thoughts, feelings and opinions can no longer be as easily subjugated. Another thing about these communities, many of which so often intersect, is that when asked for comment, so many of them are often ready to speak out.
For plus-size and curve women, as well as women whose bodies are not tall, skinny and waifish, Victoria's Secret's discrimination extends beyond runway casting. In 2016, model Erin Heatheron quit the show citing her being told to lose weight. Later that year, Mic reported on Victoria's Secret's need to cover up the baby bumps of its pregnant models. And then there are more recent headlines: "Victoria's Secret May Be Dying — But for Plus-Size Women It Never Really Lived," InStyle's Amanda Richards wrote in July. Cosmo even published a recent essay from writer Laura Capon "calling bullshit" on the omitting of plus-size models. Even the opener to the New York Times piece by Vanessa Friedman on the brand — "Victoria's Secret Is Trying to Change With the Times. Or Is It?" — questioned the lifespan of the brand's dominance.
So what happens next? While the show itself won't air until Dec. 2, it taped earlier in November, and therefore has produced receipts on what to expect on inclusion headways (there will be no firsts). But what about after that?
If precedent is any indication, nothing from VS will change. What might change, however, is another brand, one more culturally attuned, could take an entity already grasping at relevancy, dethrone it and from its ashes build something beautiful.