Firefighters condemn Trump's "reckless and insulting" comments about California wildfires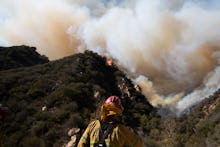 As devastating wildfires rage across California, firefighters are working to contain the rapidly spreading flames, and now they're also condemning President Donald Trump for his "insulting" and factually incorrect response to the tragedy.
On Saturday, Trump responded on Twitter to the California wildfires by claiming there is "no reason for these massive, deadly and costly forest fires in California except that forest management is so poor." He then threatened to revoke federal funding to California over the "gross mismanagement of the forests," tweeting, "Remedy now, or no more Fed payments!" Trump had previously issued an emergency declaration providing federal aid to California Friday before that tweet.
A rebuke came swiftly. The International Association of Firefighters, whose general president Harold Schaitberger described Trump's statement as "reckless and insulting."
"The early moments of fires such as these are a critical time, when lives are lost, entire communities are wiped off the map and our members are injured or killed trying to stop these monstrous wildfires," Schaitberger said in a statement. "To minimize the crucial, lifesaving work being done and to make crass suggestions such as cutting off funding during a time of crisis shows a troubling lack of real comprehension about the disaster at hand and the dangerous job our fire fighters do.
"His comments are reckless and insulting to the fire fighters and people being affected."
California Professional Firefighters, the state council of the IAFF, then condemned Trump in their own statement, which described his comments as "ill-informed, ill-timed and demeaning to those who are suffering as well as the men and women on the front lines."
"At a time when our every effort should be focused on vanquishing the destructive fires and helping the victims, the president has chosen instead to issue an uninformed political threat aimed squarely at the innocent victims of these cataclysmic fires," CPF president Brian K. Rice said in a statement.
"At this moment, thousands of our brother and sister firefighters are putting their lives on the line to protect the lives and property of thousands. Some of them are doing so even as their own homes lay in ruins. In my view, this shameful attack on California is an attack on all our courageous men and women on the front lines. ... At this desperate time, we would encourage the president to offer support in word and deed, instead of recrimination and blame."
Rice also noted that Trump's claim that California's forest policies are to blame is "dangerously wrong," as the fires spread in areas other than forests, such as fields and populated areas. Sixty percent of the state's forested areas are controlled by the federal government, rather than the state, with another third of the forested land under private control.
"It is the federal government that has chosen to divert resources away from forest management, not California," Rice said.
California Gov. Jerry Brown also fact-checked Trump's false claim during a press conference Sunday, announcing that he had requested a major disaster declaration from the White House. Brown said that while forest management was "one element" of tackling the wildfires, climate change is largely to blame for the devastation.
"Managing all the forests everywhere we can does not stop climate change — and those that deny that are definitely contributing to the tragedy,'' Brown said. "The chickens are coming home to roost. This is real here."
Over 5,000 firefighters are battling the wildfires, which are burning in both Northern and Southern California. The Camp fire in Butte County is considered to be the most destructive wildfire in California history, tearing through 100,000 acres and killing 29 people and destroying more than 6,700 structures thus far. The Woolsey and Hill fires in Southern California have burned more than 85,000 acres, including in the wealthy town of Malibu, claimed at least two lives and forced the evacuation of more than 250,000 people.
After his initial condemned tweet about the wildfires, Trump sent a subsequent, more sympathetic tweet Saturday, which said "our hearts are with" those affected by the fires. Trump's words of compassion didn't stop him from repeating his false forest management claims, however, which he reiterated once again on Sunday.
"With proper Forest Management, we can stop the devastation constantly going on in California," Trump tweeted Sunday from a weekend trip in France. "Get Smart!"