As nation observes Veterans Day, Trump not visiting Arlington National Cemetery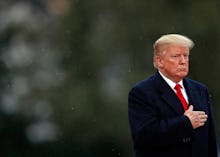 At 10:03 a.m. on Monday, the White House called a travel lid, meaning President Donald Trump is not expected to hold any public events for the remainder of the day. That also means that Trump won't visit Arlington National Cemetery on Monday, as the country observes Veterans Day — an unofficial presidential tradition.
Officially, Veterans Day was Sunday. However, Trump was in Paris commemorating the 100th anniversary of the end of World War I.
Trump made a number of blunders in Paris, including canceling a visit to an American military cemetery near Paris because it was raining. The White House claimed Trump canceled the visit because the Marine One helicopter cannot fly in rain, but at another ceremony on Sunday, the president made a comment about how a World War II veteran was being kept dry under shelter as he stood in the rain giving a speech.
"You look so comfortable up there under shelter as we're getting drenched," Trump said. "Very smart people."
Trump also chose not to walk side by side with other world leaders at another event Sunday, choosing instead to take his motorcade down an empty Champs-Élysées to the Arc de Triomph, rather than showing unity with the other heads of state.
Instead of spending his Monday marking Veterans Day, Trump has instead been tweeting conspiracy theories about the midterm elections, baselessly claiming that Democrats are forging ballots in a closely watched Florida recount.
"The Florida Election should be called in favor of Rick Scott and Ron DeSantis in that large numbers of new ballots showed up out of nowhere, and many ballots are missing or forged," Trump tweeted, a completely false claim, as the ballots being counted were mailed in, including from military personnel serving overseas, who have until 10 days after the election ends to have their ballots make it to Florida to be counted. "An honest vote count is no longer possible — ballots massively infected. Must go with Election Night!"
Trump also blamed a further decline in the stock market on Democrats.
"The prospect of Presidential Harassment by the Dems is causing the Stock Market big headaches!" Trump tweeted — another false claim, as experts say Monday's stock market decline was based on rising oil prices.