Stacey Abrams, Rick Scott take legal action as contentious election counts and recounts move forward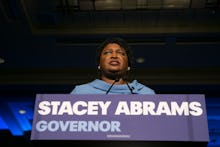 Election counts are still moving forward in Georgia and Florida, where contentious gubernatorial and Senate races have forced candidates to take legal action over the ballot-counting process.
Florida Gov. Rick Scott, who's running to replace incumbent Democratic Sen. Bill Nelson, filed multiple lawsuits Sunday as recounts began in both races. Those legal filings came in the wake of a previous lawsuit Nelson filed before the recount commenced.
Meanwhile, Georgia gubernatorial candidate Stacey Abrams has refused to back down in her fight against now-resigned Georgia Secretary of State Brian Kemp, filing a new lawsuit Sunday aimed at expanding the number of absentee and provisional votes able to be counted.
The flurry of legal filings reflects the high-stakes nature of the still-undecided contests, which currently separate the candidates by razor-thin margins. Scott currently leads Nelson by 0.2%, or 12,562 votes, while gubernatorial candidate Ron DeSantis currently leads Democratic challenger Andrew Gillum by 0.4%, a difference of 33,684 votes.
Kemp currently holds 50.3% of the vote share in Georgia; should his plurality dip below 50%, it will force a runoff election.
Georgia
Abrams' lawsuit against new Georgia Secretary of State Robyn Crittenden and local election officials alleges the state violated the First and 14th Amendments through its handling of provisional and absentee ballots. The lawsuit asks the state to extend the deadline for voters to cure their provisional ballots and to accept absentee ballots that were previously rejected for missing or insufficient information.
According to the lawsuit, election officials have rejected absentee ballots that omit information regarding a voter's address or birth date, despite the fact they are prohibited from doing so under both state and federal law.
The class-action suit specifically mentions 1,095 voters in Gwinnett County who submitted absentee ballots, though the Abrams campaign noted the improper rejections likely affected voters in DeKalb and Fayette counties, too. The lawsuit further asks the state to require county registrars to accept absentee ballots on which the voter provided "missing or insufficient oath information," provided the absences do not prevent the registrar from verifying the voter's identity.
Georgia's Democratic Party and Abrams' campaign won a previous lawsuit concerning absentee ballots when a judge ordered Dougherty County to accept all absentee ballots that had been postmarked by Election Day and received by Friday.
Abrams' campaign is also targeting provisional ballots, for which voters were required to "provide an affirmation regarding their eligibility to vote and present suitable identification" by Friday in order to have their vote counted. The lawsuit pushes for the deadline to be extended to Wednesday, saying the current deadline is "wholly inadequate" to ensure voters' ballots are accepted. The suit claims voters with "adequate information" to cure their provisional ballots were being turned away by election officials or told they were being "added to a list" that will be addressed later.
"Each of these tens of thousands of [provisional] ballots represents the voice of a Georgian voter, and now those voices are at risk of not being heard," the lawsuit notes. "Under Georgia law, it appears that any voters whose provisional ballots have not been resolved by Nov. 9, 2018, will be disenfranchised, simply because the counties in which they respectively reside could not address their ballots in time. There is no reason it needs to be this way."
The lawsuits alleges the number of unaddressed provisional ballots is, in part, a result of the state's voter suppression issues leading up to the election. Kemp and other election officials previously came under fire and faced legal challenges over voter registrations being canceled, put on hold or purged from the system amid a restrictive "exact match" policy. These issues were compounded on Election Day, when voters were forced to cast provisional ballots due to issues with voting machines or during extended hours at precincts that had opened late.
According to the lawsuit, the problems resulted in more than 21,000 provisional ballots cast — a higher number than in the 2016 presidential election, which had slightly higher voter turnout.
Sunday's lawsuit comes as Abrams continues to fight for victory in the gubernatorial race; she currently trails Kemp by over 58,000 votes. Though Kemp has urged his opponent to concede, the Associated Press noted the Abrams campaign believes there are still enough outstanding votes to narrow the gap to the 22,000 vote margin needed for a runoff election. Kemp's campaign contends there are only 18,000 outstanding votes, which would make it mathematically impossible for Abrams to force a runoff.
Florida
Scott filed three lawsuits Sunday as recounts began in the Florida Senate, governor and agriculture commissioner races.
The two lawsuits filed in Broward and Palm Beach counties call for election officials there to "impound and secure all voting machines, tallying devices and ballots when not in use" during the recount and any subsequent litigation concerning the Senate race.
The lawsuits are Scott's latest allegations of impropriety in the election count; the suit claims the conduct of Broward and Palm Beach county officials have "raise[d] substantial concern about the security and validity of the electoral process and the preservation of the voting machines, tallying devices, [and] ballots used and cast during the general election."
Scott had filed two lawsuits Thursday against the same officials, Broward County Supervisor of Elections Brenda Snipes and Palm Beach County Supervisor of Elections Susan Bucher. Those lawsuits alleged Snipes hid records and "commit[ted] fraud" during her county's vote tallying and accused Bucher of withholding absentee ballots in which voters had "overvoted" or "undervoted" in a race. Judges sided with Scott in both lawsuits.
Scott and other Republicans have alleged voter fraud throughout the election count; Florida Attorney General Pam Bondi called for law enforcement to investigate claims of irregularities Sunday, echoing a previous call by Scott. President Donald Trump has made unfounded claims about the count on Twitter, tweeting Monday that the races should be automatically awarded to Scott and DeSantis because "an honest vote count is no longer possible."
Republicans' allegations of voter fraud do not have any basis in fact; law enforcement and officials from Scott's administration have found no evidence of voter fraud. Broward and Palm Beach counties have both favored Democrats in their election counts thus far.
Scott also filed a separate lawsuit against Snipes and Broward County on Sunday, seeking to block the county from submitting any ballots counted after noon on Saturday — with the exception of mailed ballots from overseas voters — alleging that counting such votes violates state law.
Snipes said she had not missed the deadline, telling the Washington Post there was "no rampant fraud" in Broward County.
Meanwhile, Nelson filed a lawsuit Friday aimed at expanding the number of votes that can be submitted. The incumbent senator sued Florida Secretary of State Ken Detzner over the signature matching process used to validate absentee ballots, arguing there is a "complete lack of uniformity" in the process that results in rejected ballots and voter disenfranchisement. The lawsuit calls for the state to approve all ballots with signature irregularities.
In a statement Sunday, Nelson argued Scott's legal challenges were an effort "to stop every legal vote from being counted" and suggested there could be more lawsuits to come.
"If Rick Scott wanted to make sure every legal ballot is counted, he would not be suing to try and stop voters from having their legal ballot counted as intended," Nelson said. "He's doing this for the same reason he's been making false and panicked claims about voter fraud — he's worried that when all the votes are counted, he'll lose this election."
"We will not allow him to undermine the democratic process and will use every legal tool available to protect the rights of Florida voters."