'Toy Story 4': Here's everything we know about the newest installment in the franchise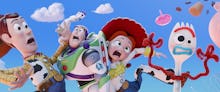 On Monday, Disney's Pixar released a new teaser trailer for the upcoming fourth movie in the Toy Story franchise, due out June 21, 2019. The teaser doesn't offer much info about the plot of the newest film in the series, but it does introduce a new character — a plastic spork with pipe-cleaner arms. So, not exactly a new toy, but a new face nonetheless.
In case you don't remember, the last film in the franchise, Toy Story 3, ended with Andy growing up and going off to college and eventually deciding to pass on his beloved toys to a neighbor. So presumably, Toy Story 4 will find the familiar toys — and their new, utensil friend — living with a new owner.
While the newly released teaser doesn't give us much to go on in terms of what Toy Story 4 might actually be about, here's everything we know about the film so far.
Toy Story 4 was first confirmed in 2014
After months of rumors that a new Toy Story film was in the works, Disney finally confirmed the new project in 2014 — along with the news that Tom Hanks and Tim Allen would return as Woody and Buzz Lightyear. At the time, Disney CEO Bob Iger said that Pixar co-founder John Lasseter would be directing and Rashida Jones and Will McCormack were signed on to write the film.
"We love these characters so much; they are like family to us," Lasseter said in a statement at the time. "We don't want to do anything with them unless it lives up to or surpasses what's gone before. Toy Story 3 ended Woody and Buzz's story with Andy so perfectly that for a long time, we never even talked about doing another Toy Story movie. But when Andrew, Pete, Lee and I came up with this new idea, I just could not stop thinking about it. It was so exciting to me, I knew we had to make this movie — and I wanted to direct it myself."
In 2015, Pixar president Jim Morris said in an interview that Toy Story 4 was going to be a rom-com, according to E! News. "It is not a continuation of the end of the story of Toy Story 3," Morris said at the time. "Temporarily it is, but it will be a love story. It will be a romantic comedy. It will not put much focus on the interaction between the characters and children. I think it will be a very good movie." That same year, Lasseter told CNBC that the upcoming fourth Toy Story film would be a "love story" about Woody and his love interest, Bo Peep.
Production shake-ups
In July 2017, news broke that Lasseter was stepping aside and former co-director Josh Cooley would be taking over as director of Toy Story 4. And then in November 2017, the Hollywood Reporter published a report detailing allegations of harassment against Lasseter, including allegations that he frequently kissed and touched women he worked with without their consent. That report also contained the detail that Rashida Jones and Will McCormack had left Toy Story 4 "early on," reportedly because Lasseter had made an unwanted advance.
But in a statement to the New York Times, Jones and McCormack denied that that was the reason they left the project. "We did not leave Pixar because of unwanted advances," they wrote. "That is untrue. We parted ways because of creative and, more importantly, philosophical differences ... There is so much talent at Pixar, and we remain enormous fans of their films. However, it is also a culture where women and people of color do not have an equal creative voice."
They added that they jointly "encourage Pixar to be leaders in bolstering, hiring and promoting more diverse and female storytellers and leaders. We hope we can encourage all those who have felt like their voices could not be heard in the past to feel empowered." In November, just as the report about his alleged behavior surfaced, Lasseter announced a six-month sabbatical, and then in June, said that he would not be returning to Disney.
Get ready to cry
So far, it seems like Toy Story 4 will likely be another Pixar tear-jerker. HuffPost reported in November that stars Tim Allen and Tom Hanks have both said the last scene of the fourth movie was incredibly emotional to make. Allen reportedly said that he "couldn't even get through the last scene," and Hanks has said that he spent his last day recording with his back to the creative team because, "I didn't want to see them and I wanted to pretend they couldn't see me."
A plot synopsis that accompanied the new teaser trailer posted to YouTube on Monday offered more details about the plot. "Woody has always been confident about his place in the world and that his priority is taking care of his kid, whether that's Andy or Bonnie," it said. "But when Bonnie adds a reluctant new toy called 'Fork' to her room, a road trip adventure alongside old and new friends will show Woody how big the world can be for a toy."
By all accounts, it seems like the newest Toy Story will be part romance, part adventure, part everyone crying in the theater.