Senator in runoff election against black opponent faces backlash over "public hanging" comment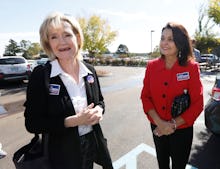 Mississippi Republican Sen. Cindy Hyde-Smith is taking heat for a comment she made during a recent political rally in which she joked about eagerly attending a "public hanging."
Hyde-Smith, who is currently embroiled in a runoff election with Democratic opponent Rep. Mike Espy, who is black, had reportedly been responding to praise from a local rancher when she made the remarks.
"If he invited me to a public hanging, I'd be in the front row," she can be heard saying in a video recording of the incident.
During a Monday morning appearance on CNN's New Day, Espy called the comments "disappointing" and said that residents deserved better.
"They are hurtful to millions of Mississippians who are people of goodwill," he said. "And they're harmful because they tend to reinforce the stereotypes that have held back our state for so long and that have cost us jobs and harmed our economy."
In a formal statement, Espy's campaign also said that the comments were "reprehensible."
"They have no place in our political discourse, in Mississippi, or our country," the statement said. "We need leaders, not dividers, and her words show that she lacks the understanding and judgment to represent the people of our state."
If Hyde-Smith wins the election, she will complete the final two years of the term she assumed when she replaced former senator Thad Cochran in March. On Sunday, she called the comments making the rounds an "exaggerated expression," and said that "any attempt to turn this into a negative connotation is ridiculous."
Nevertheless, Hyde-Smith's comments also drew a swift rebuke from the NAACP, particularly in light of the fact that Mississippi has a long and dark history of public lynchings perpetrated against black women and men.
"Hyde-Smith's decision to joke about 'hanging' when the history of African-Americans is marred by countless incidents of this barbarous act, is sick," NAACP president Derrick Johnson said in a statement Sunday, according to the Washington Post. "Any politician seeking to serve as a national voice of the people of Mississippi should know better."
In her battle for the senate seat, Hyde-Smith has enjoyed the support of several prominent Republicans — most notably President Donald Trump.
"She's always had my back," Trump told supporters during an Oct. 2 rally in Southaven, Mississippi. "She's always had your back. And a vote for Cindy is a vote for me."