People from 20 countries share what's in their refrigerators — and what goes to waste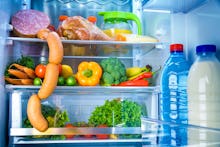 Maybe it's too much to say a peek inside a person's fridge is a glimpse into their soul, but you certainly learn something — about the person, and, perhaps their culture — from examining what they store in their homes as fuel.
Admiral, a U.K.-based insurance company, surveyed 20 people from 20 different countries to see what kinds of items they stock, and to learn a bit more about their grocery-shopping routines. The appliance itself will vary from kitchen to kitchen: Americans, by far, have the biggest refrigerators, with an average interior volume of between 10 and 25 cubic feet, not counting the freezer portion.
But bigger doesn't necessarily mean better. The larger the appliance, the more energy is used, which might help explain why the U.S. is one of the world's biggest contributors to climate change. "Since our refrigerators run day and night, they use more energy than any other household appliance, which means their size has ramifications for the planet's rate of global warming," Jonathan Rees wrote for the Atlantic. And, as Rees pointed out, more room to store things doesn't necessarily mean more delicious: "Most people would agree that fresh food tastes better than anything that's been kept in a refrigerator for even a short amount of time," he wrote. "So why then would anyone want a weeks' worth of perishable food stored in their kitchen at one time?"
Perhaps it's that Americans, and other big fridge identifiers, are hooked on convenience. But convenience, in this case, seems to be valued over waste: Americans lead the world in food waste, too.
Meghan, from Somerville, Massachusetts, who contributed a fridge photo for the series, appears to have a tightly packed fridge. She lives with her partner, Ben, and their dog, Pluto. "We shop for food together and we like to cook together and plan our meals for the week based on whatever looks best on the shelves," she told Admiral. The couple shops at Trader Joe's or Wegmans, and spends approximately $70 on food per week (including at restaurants). "We always have a good amount of seasonal produce on hand," she said.
Laurene, who shared her fridge photo from Helsinki, Finland, has much sparser shelves. She said that she and her boyfriend shop for food every one to two days. The two both work as freelancers, which causes their income to be very irregular. "We replant fresh herbs so to keep them longer," she told Admiral. "And we have a rule that we're not allowed to waste any food."
You can see how people around the world stock their refrigerators and plan their grocery shopping in the photos below, and you can check out Admiral's full series here.
Argentina
"We try not to be wasteful with food. If any food remains, we reheat it the next day and any leftovers go to the dog." — Miguel, Mendoza, Argentina
Bangladesh
"My husband gets the food shopping and pays for it. He goes two or three times a week." — Bashanti, Bagerhat, Bangladesh
Bulgaria
"My mother and I share the cost of the shopping. Probably around 5% of our food is wasted." — Christina, Haskovo, Bulgaria
Colombia
"Sometimes my parents visit for a few weeks. My family consists of four of us, but usually I live alone. I shop weekly on a Saturday or Sunday. I go to a few supermarkets and I visit a fruit and veggie market ... separately too." — Janice, Bogotá, Colombia
Ecuador
"We always have tomatoes, onions, shrimps and soya meat in the fridge. A treat for us is low-sugar chocolate." — María, Guayaquil, Ecuador
England
"Once opened, everything is decanted into Tupperware so no smells linger in the fridge. I shop at Marks and Spencer's, a high-end chain store, once a week. ... I have a composting bin for waste and I give apple cores to our dog Bracken." — Nicola, Tunbridge Wells, England
Finland
"We love condiments and pickled items like mustard, soy, chili sauce, fish sauce, ketchup, Worcestershire sauce, tabasco, lemon juice, capers, ginger, cucumbers and eggs." — Laurene, Helsinki
Ireland
"We have a veg patch where we grow some of our own food. This year we had a lot of courgettes, runner beans, strawberries and tomatoes. A good portion of our wasted food comes from the kids not finishing meals. This ends up in the dog, so it isn't really wasted." — Duncan, Wexford, Ireland
Kenya
"My wife travels five kilometers to buy the food on a weekly basis. We do grow some of our own food, on a small scale." — Nicholas, Nairobi, Kenya
Mexico
"I'm single and live by myself. I don't grow my own food, but I really wish I could. I usually shop for food once or twice per week. I buy veggies from stands on the street or little corner shops and the rest comes from the supermarket." — Vanessa, Guadalajara, Mexico
Pakistan
"We do a shop twice a month. I pay for and buy the food shopping at either Walmart or Hyperstar, both of which are around 10 kilometers from our house. We probably waste around 5% of our food." — Asif, Lahore, Pakistan
Palestinian territories
"I buy the food shopping for us once a week from the market which is five kilometers away, usually on Fridays. We waste about 20% of our food, which I don't think is a lot." — Ghada, Khan Yunis, Palestinian territories
Poland
"Twice a week I shop at the nearest supermarket, unless there's something to do near a shopping mall. Not much food is wasted, although I do tend to overbuy buttermilk and some vegetables." — Mateusz, Silesia, Poland
Romania
"We are very careful not to waste food, so we usually don't buy more than we need for a few days. Very little of our food is wasted, maybe around 5%." — Daniel, Cluj-Napoca, Romania
Russia
"We don't travel far to buy our food as there are plenty of supermarkets close to our apartment. My father goes shopping every few days." — Anastasija, Saint Petersburg, Russia
Ukraine
"We try to keep waste to a minimum and probably waste around 5% to 10% of our food. The supermarket is around 15 minutes' walk from home." — Denys, Kharkiv, Ukraine
United States
"We always have a good amount of seasonal produce on hand (our diets are primarily vegetarian)." — Meghan, Somerville, Massachusetts
Uruguay
"We shop on Fridays and Wednesdays, and I fetch the shopping as I have a more flexible work schedule. I buy from the nearest farmers' market and carry the food in an environmentally friendly bag." — Pedro, Montevideo, Uruguay
Venezuela
"I only waste a tiny bit of food in preparation, but leftovers are always eaten." — Rene, Merida, Venezuela
Wales
"My wife buys the shopping from Tesco, Lidl or Waitrose every few days and we use Bags for Life to help the environment. We grow our own tomatoes." — Richard, Monmouth, Wales