7-Eleven may be outing its undocumented workers to ICE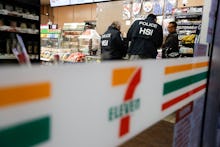 In January, U.S. Immigration and Customs Enforcement agents raided nearly 100 7-Eleven convenience stores spanning 17 states and Washington, D.C. ICE served inspection notices and arrested 21 undocumented workers.
"Today's actions send a strong message to U.S. businesses that hire and employ an illegal workforce: ICE will enforce the law, and if you are found to be breaking the law, you will be held accountable," Thomas D. Homan, the acting director of ICE, said in a statement during the time of the arrests.
7-Eleven claims zero responsibility in the raids, alleging it does not provide any information to the government unless a crime occurs in a store. But according to a recent report by Bloomberg, which was in contact with three officials from Homeland Security Investigations, the chain provided the names of several franchise owners to ICE, which directly led to raids by agents in several cases.
In July, 7-Eleven issued a warning letter to at least one franchise owner in Los Angeles, demanding documentation or otherwise threatening the seizure of his store.
The letter and raids suggest 7-Eleven is actively chasing down franchise owners — some of whom are also the company's biggest critics — and are willing to use immigration law in order to accomplish the task.
Many franchise owners have long criticized 7-Eleven's control over their stores
The convenience store chain has a long history of battling its own franchise owners. One lawsuit by the National Coalition of Associations of 7-Eleven Franchisees, made up of nearly 7,000 franchises, claims the chain has taken from their profits, alleging total control over every dollar spent.
Another lawsuit alleged 7-Eleven falsely identified several franchise owners as "independent contractors" instead of employees. This resulted in the loss of hundreds of thousands of dollars in overtime pay and business expenses.
And 7-Eleven hasn't taken these lawsuits lightly. The chain has gone so far as to investigate its own franchise stores through the use of hidden cameras, secret listening devices and surveillance trucks disguised as plumbing vehicles, likely in an effort to find violations of contractual agreements as franchises.
Currently, 7-Eleven has the right to terminate any contract with owners that violate its terms. One such term includes abiding by U.S. immigration law, which requires all employees have authorization to work in the country. Failure to comply would result in seizure of the store by 7-Eleven.
To the dismay of franchise owners, 7-Eleven also recently altered its franchise renewal agreements, which must be renewed by the end of 2018. The new contract requires stores to stay open on Christmas Day and a steep franchise renewal fee of $50,000. The coalition of franchises has issued a letter asking for a renegotiation of the terms of the agreement. Franchise owners face the risk of forfeiting stores if they are unable to agree to its new terms.
ICE arrests have increased during the Trump administration
In 2013, ICE agents seized 14 7-Eleven stores across Long Island and Virginia and arrested nine managers and owners. At the time, ICE was investigating another 40 franchises in New York City.
With the Trump administration in office, ICE arrests have become more frequent — in the first few months of 2017, arrests of undocumented immigrants by ICE surged nearly 40% nationwide compared to the same period of time in 2016. From January through September, ICE removed an additional 191,500 individuals, compared to 175,500 in the same time frame in 2017.
"This is what we're gearing up for this year and what you're going to see more and more of is these large-scale compliance inspections, just for starters," Derek Benner, acting head of ICE's Homeland Security Investigations, told AP in January. "It's not going to be limited to large companies or any particular industry — big, medium and small."
According to an ICE budget request document obtained by the Washington Post, officials said they are detaining some 43,000 immigrants on average each day — and plan to deport roughly 253,000 immigrants between October and September.
The group is also lobbying for a budget increase of $1 billion to support its future deportation efforts and costs.
Mic has reached out to 7-Eleven for comment.