Marvel Comics legend Stan Lee has died at age 95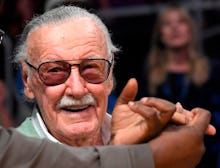 Stan Lee, writer, editor and publisher of Marvel Comics, has died at the age of 95, TMZ reported Monday.
Born Stanley Martin Lieber in New York City on Dec. 28, 1922, Lee is best-known for his involvement in creating popular Marvel characters like Spider-Man, Black Panther, the X-Men and others.
Lee started his comic book writing career working for Timely Comics in 1939. It was in 1961 that Lee, alongside fellow comic book creator Jack Kirby, introduced the first of many superheroes they would create, The Fantastic Four.
Unlike superheroes designed by competing comic book publications at the time, Lee's superheroes were noteworthy for how they reflected humanity. In 1963, many Marvel fans saw a hero they could relate to with Spider-Man. When the super-powered kid from Queens, New York, wasn't fighting bad guys, he was contemplating relationship troubles and struggling to pay rent. Two years prior, Lee told tales of discrimination through X-Men. Even though the characters' mutant powers came in handy during battle, their everyday life was plagued by a society that didn't accept them for being different. In 1972, Lee became Marvel's publisher.
Lee was one of the most popular faces in comic book creation. The graphic novel artist regularly made cameo appearances in the movies belonging to his heroes, from the recent Spider-Man: Homecoming to The Trial of the Incredible Hulk from 1989.
Before he died, Lee experienced vision issues and had a bout of pneumonia, TMZ reported. Lee also experienced heart problems. Lee's wife, Joan Boocock Lee, died in 2017 after a stroke. The two were married for 69 years.
Lee's legacy lives on in his daughter, 67-year-old J.C. Lee, who told TMZ on Monday afternoon that "My father loved all of his fans. He was the greatest, most decent man."
Nov. 12, 2018, 3:50 p.m.: This story has been updated.