Hype Daily: Celebrities mourn Stan Lee and more entertainment news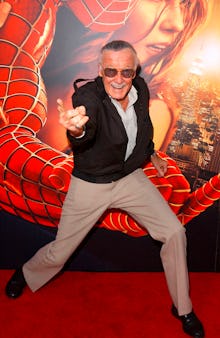 Good morning, readers, and welcome to another excited Tuesday. If you're near the fires in California, stay safe. And if you're in a part of the country that's getting snow this week, stay warm. Now let's get into the day's entertainment news.
Celebs mourn Stan Lee on social media
Comics legend Stan Lee died Monday at the age of 95 — and he left behind an entire universe of Marvel superheroes and villains that he helped to create. Lee, who worked in the comics business since 1939, had created or had a hand in the creation of iconic characters like Spider-Man, the X-Men, the Hulk, Black Panther and Iron Man.
Celebs who had been associated with Marvel over the years posted messages of mourning on social media. Chris Evans, who plays Captain America in the Marvel Cinematic Universe, tweeted, "There will never be another Stan Lee. For decades he provided both young and old with adventure, escape, comfort, confidence, inspiration, strength, friendship and joy. He exuded love and kindness and will leave an indelible mark on so, so, so many lives. Excelsior!!" Hugh Jackman, aka Wolverine, wrote, "We've lost a creative genius. Stan Lee was a pioneering force in the superhero universe. I'm proud to have been a small part of his legacy and ... to have helped bring one of his characters to life."
And George Takei tweeted, "He inspired millions with his myriad, 'Marvelous' characters, from Spiderman to Black Panther, Thor to the X-Men. Legendary creator Stan Lee is dead at 95. But his stories will live on and continue to ignite the imaginations of generations to come. Rest with the stars, great sir."
The trailer for Detective Pikachu dropped on Monday
The trailer for the upcoming live-action Pokémon movie Detective Pikachu dropped on Monday and it looks... kinda good? The new movie features Ryan Reynolds as the voice of a talking, fuzzy Pikachu who teams up with a kid named Tim (Justice Smith) to help him find his missing father.
As weird as it is to see fuzzy Pokémon walking around in the real world, the trailer is also pretty compelling — which might explain why everyone on your Twitter feed was talking about it on Monday. Watch the new trailer here. Detective Pikachu is scheduled to hit theaters May 11, 2019.
Lady Gaga reportedly visited victims of the Woolsey Fire
Lady Gaga, who had to evacuate her home in Malibu, California, because of the ongoing Woolsey Fire, stopped by a Red Cross shelter on Sunday to visit with victims of the fire, Variety reported Monday. "I extend my love to each and every one of you," Gaga said, according to TMZ. "I know we do not know each other, but I love you. This is an emergency, but you are not alone. And we have each other."
She also reportedly handed out gift cards to the victims, encouraged them to speak to the mental health counselors onsite and sang to a 98-year-old who had been forced to evacuate because of the fire. What an ally.
The Child's Play reboot has a release date
The new Child's Play reboot now has a release date, Variety reported Monday. Chucky will be returning to the big screen on June 21, 2019. (That's the same day that Toy Story 4 is slated to hit theaters — big day for sentient dolls!) This update of the 1988 film will star Aubrey Plaza as a woman who unwittingly gives her child a killer doll and Brian Tyree Henry as a detective who is also somehow involved.
The Child's Play redux is being produced by David Katzenberg and Seth Grahame-Smith, the same people behind the 2017 It reboot, so they're probably hoping for the same, nostalgia-induced box-office success.
Put this on your radar: Netflix is giving us a Nailed It! holiday season
It's a holiday miracle! Netflix is giving us a six-episode Nailed It! holiday season, Eater reported Monday. Nailed It! is a delightful cooking show hosted by comedian Nicole Byer and chocolatier Jacques Torres where absolutely normal people try their hardest to make extremely elaborate desserts.
It's totally fun to watch, so a holiday season of the show will be exactly what we need to get through the darkest months of the year. Check out a trailer here for the new season, which drops Friday, Dec. 7.
This has been Hype Daily, Mic's morning entertainment roundup. It's everything you need to catch up on in the entertainment world and what to look forward to today. Want to receive this as a daily email in your inbox? Subscribe here.