Puerto Rico is open for business, with some help from Lin-Manuel Miranda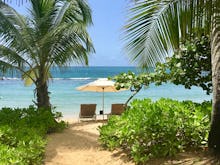 Dozens of Caribbean islands have been working to recover after devastating storms pummeled the region in late 2017. Puerto Rico sustained some of the most severe and protracted damage, the likes of which still haven't been fully resolved. But as the island prepares for the winter travel season and the potential re-infusion of vital tourist dollars, a big push is being made to reboot some of the lapsed infrastructure and incentivize new visits.
According to the local tourism authority, the reopening of shuttered properties has equated to a $1.9 billion investment and led to the creation of almost three thousand new jobs. Dorado Beach, a Ritz Carlton Reserve, reopened in October and has been the unofficial headquarters for chef José Andrés' World Central Kitchen efforts — a grassroots initiative working with local farms that started in 2010 after the earthquake in Haiti. The Condado Vanderbilt, which remained open through the rebuilding, housing workers and volunteers, celebrates its 100th anniversary in 2019; resident chef Juan Jose Cuevas, the former executive chef of Blue Hill in New York City, champions local produce sourced from these revitalized farms.
Besides the fairly inexpensive airfare from the continental U.S., and the new and increased ferry links from the northeast Ceiba port to the idyllic islands of Vieques and Culebra, the best answer to "why visit now" are the 24 performances of Lin-Manuel Miranda's Hamilton at the University of Puerto Rico in January. Proceeds will go to the Flamboyan Arts Fund, dedicated to re-establishing outlets for the island's creative arts scene.
The must-try dish
You can't visit Puerto Rico without trying mofongo, a warm, savory, plantain-based dish. Derived from a starchy dish called fufu from Western Africa, it embodies the diversity found in the island's Spanish, West African and indigenous Caribbean communities.
How to give back
According to Para la Naturaleza, a locally based environmental nonprofit, it is estimated that 23 to 31 million trees were felled by Hurricane Maria. Over the next five years the organization plans to reintroduce over 775,000 plants to the wilds of the island. Para la Naturaleza's website features a comprehensive list of short-term volunteer opportunities for both travelers and residents.
Avoid the crowds
The National Forest at El Yunque is the island's favorite slice of untouched jungle, with thousands of visitors taking on short hikes and dips in gushing waterfalls, but there are dozens of others preserves worth exploring with a fraction of the tourist traffic; Para la Naturaleza also manages more than 60 of these natural areas.
For more of Mic's Best Places to Travel in 2019, explore our map or view the complete list here.