Franklin, Tennessee, has the whiskey and war history to rival Nashville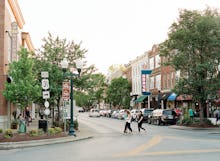 As Nashville's star continues to shine, its little sister Franklin, Tennessee, has crept out of the spotlight and emerged as a travel hotspot all its own. Just 20 miles south of Music City, Franklin has long drawn Civil War history buffs — it was home to one of the worst disasters for the Confederates and claimed 2,300 lives and left another 7,000 wounded — but its positioning along the Tennessee Whiskey Trail has made it a bona fide destination for spirits lovers from all over the world. H Clark Distillery became the first distillery to open in Williamson County after Prohibition when it moved into an old granary in Thompson's Station in 2014. Leiper's Fork Distillery soon followed their lead. This was enough for the city to launch a Masters & Makers trail, which linked the distilleries to a pair of breweries and an acclaimed winery, Arrington Vineyards, owned by country music legend Kix Brooks.
In 2019, however, Arrington won't be the only winery to hold court in Williamson County. Sam and Eric Coghlan, the owners of Pot & Kettle Cottages in Leiper's Fork, formerly worked in the wine business in California and decided to resurrect their old brand under the name Leiper's Fork Winery. They'll be unveiling an interactive tasting experience and plenty of live music and events when they open next summer.
Also on the docket for summer is the opening of the Harpeth, a LEED Gold certified, four-diamond Curio Collection by Hilton hotel. The hotel will have 119 rooms, a high-end spa and a gourmet restaurant with an extensive whiskey selection of local and rare pours. The hotel is part of the ongoing Harpeth Square project, comprising more than 15,000 square feet of new restaurant and retail space along Franklin's historic Main Street. Previously, Franklin has never had a hotel downtown, so the Harpeth will allow guests to experience the city's charm, live music, restaurants, shops and bars without ever needing to call an Uber.
The restaurant to try
Franklin sports one of the most well-preserved Main Streets you'll find. Spend an evening at Gray's on Main, which occupies a former pharmacy in a building dating back to 1876. The food is distinctly Southern — if there's fried chicken and waffles on the ever-changing menu, you must get it — served in a space that truly honors the history of the building. Next door to Gray's, the same owners opened O' Be Joyful, a whiskey bar and one of few places open late downtown.
How to kill a few hours
Built in 1929, the Factory at Franklin was used during the Depression as a manufacturing facility. In 2012, new ownership revitalized the area, and over time, creative food and retail spaces have popped up, in addition to a handful of entertainment venues. Poke around shops like the Made in TN store and don't miss lunch at Mojo's Tacos or Funk Seoul Brother, coffee at Honest Coffee Roasters and a scoop of sweet cream biscuits and peach jam ice cream at Jeni's.
The must-buy souvenir
Though H Clark Distillery is on the Tennessee Whiskey Trail, they produce the best gin I've ever had. Swing by the distillery and grab a couple bottles to take home with you. On a similar whiskey note, homegrown company Southern Firefly Candle Co. also carries a whiskey-and-gunpowder-scented Battle of 1864 candle — it's sold by the Franklin Visitor Center and various shops around town.
For more of Mic's Best Places to Travel in 2019, explore our map or view the complete list here.