Today in Trump's America: Democrat Kyrsten Sinema becomes Arizona's first female, LGBTQ senator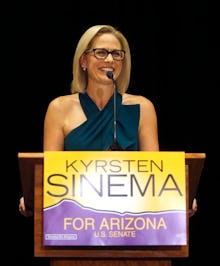 It's been a week since Election Day, and a few races still remain to be called.
On Monday night, the Associated Press called Arizona's Senate race for Democrat Kyrsten Sinema, who defeated GOP nominee Martha McSally to pick up outgoing Republican Sen. Jeff Flake's seat.
Sinema's win comes after the state counted hundreds of thousands of mail-in and provisional ballots. Those votes helped her overtake McSally, who had the lead on election night. More ballots remain to be counted, but Sinema defeated McSally 49.7% to 48% when the AP called the race.
Sinema now becomes Arizona's first female senator, as well as the second out as LGBTQ senator in history — Sinema identifies as bisexual.
A few races have yet to be called, including Florida's Senate race — which is currently in a recount — three House contests in California, and a handful of other House contests across the country.
Democrats lead in one of the three California House contests, and the GOP margins in the two others are shrinking by the day, with thousands of ballots remaining to be counted. It's looking likely that Democrats will end up picking up all three of those seats.
When all is said and done, Democrats could pick up a total of 39 House seats — far more than the 23 they needed to win control of the House, and a number viewed as unheard of when the cycle began, thanks to Republicans' gerrymandered structural advantage.
Here's what's happening in Trump's America:
• Trump's day begins at 11:30 a.m., when he'll receive his daily intelligence briefing.
About last night: Maryland to sue, claiming Matt Whitaker's appointment as AG is illegitimate
The state of Maryland will file a lawsuit on Tuesday to seek an injunction on President Donald Trump's appointment of Matthew Whitaker as acting attorney general. The suit says Whitaker's appointment violates the Constitution, NPR reported.
Maryland's petition for an injunction will claim Whitaker's appointment is unconstitutional, as he was never confirmed by the Senate, according to NPR's report. It will go on to claim that under the Department of Justice's order of succession, Deputy Attorney General Rod Rosenstein must serve as acting attorney general until a permanent replacement is confirmed by the Senate.
Whitaker's appointment has drawn scrutiny given his past comments on special counsel Robert Mueller's investigation into Russian interference in the 2016 election. As acting attorney general, Whitaker would be responsible for overseeing Mueller's investigation, which he has said has gone "too far."
The New York Times also reported Whitaker interviewed with the White House for a job as a Mueller attack dog — which Democrats say disqualifies him from overseeing Mueller's probe.
Whitaker, for his part, is now consulting with ethics officials at the Department of Justice about whether or not he must recuse himself, according to CBS's Paula Reid.
Today in Trump's America: Trump expected to fire Homeland Security Secretary Kirstjen Nielsen
The Washington Post reported late Monday night that Trump plans to fire Homeland Security Secretary Kirsten Nielsen and will do so "in the coming weeks, if not sooner."
According to the Washington Post's report, Trump does not think Nielsen is being forceful enough with immigration enforcement and wants to find someone who will be tougher on one of his signature issues. He "has grown impatient and frustrated" with Nielsen, according to the Washington Post, because Nielsen told him there are laws stopping him from closing the U.S.-Mexico border.
If Trump fires Nielsen, she'd be the second Cabinet official to be ousted since the midterm elections, following Trump's removal of Jeff Sessions as attorney general.
The Washington Post reported Kris Kobach — a conservative Republican who ran Trump's failed voter fraud commission and lost the governor's race in Kansas last week — is in the running to replace Nielsen. However, Kobach could face a tough road to Senate confirmation given his controversial past.
And the rest...
Roger Stone associate says he's being indicted: Jerome Corsi, a longtime associate of Republican Roger Stone, said in a livestreamed video Monday night he expects he'll be indicted for perjury by special counsel Robert Mueller, Politico reported. Mueller is probing whether Stone had a back channel with Wikileaks — which released hacked emails from top Clinton campaign aides. Corsi, a conspiracy theorist who helped push the baseless "birther" attack against former President Barack Obama, communicated with Stone about Wikileaks — leading to his inclusion in Mueller's probe.