CNN sues Trump administration to reinstate reporter Jim Acosta's press credentials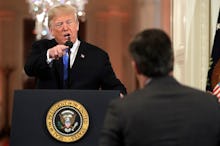 CNN on Tuesday announced it has filed a lawsuit against the Trump administration and other senior White House officials, accusing them of violating Jim Acosta's First and Fifth Amendment rights when they revoked his press credentials on Wednesday.
"The wrongful revocation of these credentials violates CNN and Acosta's First Amendment rights of freedom of the press, and their Fifth Amendment rights to due process," CNN said in a statement released Tuesday morning. "We have asked this court for an immediate restraining order requiring the pass to be returned to Jim, and will seek permanent relief as part of this process."
The White House claims Acosta assaulted a female intern during Trump's post-election news conference on Nov. 7. White House press secretary Sarah Huckabee Sanders also released doctored video footage in an attempt to prove that Acosta touched the intern.
However, the video actually shows that it was the intern who tried to forcefully pull a microphone from Acosta's hands. And even the doctored footage the White House released shows the incident was a nothingburger — just an excuse by the White House to justify revoking Acosta's credentials.
Trump and White House aides have long attacked CNN, calling the network "fake news." And the White House's relationship with Acosta has grown fraught, as the correspondent pushes back on Trump's claims that the media is the "enemy of the people."
In suing the White House to reinstate Acosta's credentials, CNN pointed out that any reporter could have been the target of the White House's retribution.
"While this suit is specific to CNN and Acosta, this could have happened to anyone," CNN said in the statement. "If left unchallenged, the actions of the White House would create a dangerous chilling effect for any journalist who covers our elected officials."
The White House Correspondents' Association said it supports CNN's lawsuit.
"The White House Correspondents' Association strongly supports CNN's goal of seeing their correspondent regain a U.S. Secret Service security credential that the White House should not have taken away in the first place," WHCA president Olivier Knox said in a statement. "Revoking access to the White House complex amounted to disproportionate reaction to the events of last Wednesday."
In a statement Tuesday morning, Sanders said the White House is not backing down from its decision.
"We have been advised that CNN has filed a complaint challenging the suspension of Jim Acosta's hard pass. This is just more grandstanding from CNN, and we will vigorously defend against this lawsuit," she said.
Nov. 13, 2018, 10:53 a.m.: This article has been updated.