Holiday gift guide for those who want their spending in the pockets of LGBTQ brands and makers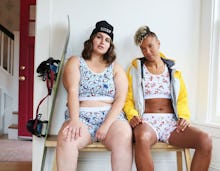 If you're anything like us, the weeks following Halloween can bring up a challenging thought: What do we get the people we love for the holidays? Whether they are members of your given family, or members of your chosen one, how do you convey to your loved ones how you value them? We think the secret lies in showing how much you honor their communities.
At first glance, this can seem like an easy enough task, but there is more than meets the eye when it comes to companies promoting LGBTQ-related products. Often, corporations peddling queer products do not use the money they make from purchases to give back to the communities they are profiting off of. In recent years, particularly around Pride month, it has become painfully clear that these brands are only attempting to foster superficial relationships with LGBTQ communities.
Given the global political climate, leaders in LGBTQ communities are making an effort to counteract this issue by forging meaningful relationships with queer and trans artists and companies, organizing marketplaces that highlight the creative minds behind famously queer art, and encouraging members of their communities to rally around each other. If the queer dollar is as valuable as these corporations make it seem, we should utilize that power to invest in ourselves before investing in companies that fall short of supporting LGBTQ people.
In an effort to resolve these woes, in conjunction with The BK Queer Flea, we've constructed the ultimate 2018 gift guide to make the experience of shopping for your queer and trans friends and family just a tad bit easier. This guide features artists and brands we have come to love, many of whom operate as small businesses, and work to spread messages about the value of queer and trans experiences, bodies and art.
Phluid Project made quite the splash when they revealed their very first gender-free, brick-and-mortar retail store earlier this year. What makes this space stand out amongst the many retailers in the SoHo neighborhood has a lot to do with their thoughtful messaging around inclusivity, their intent to start conversations about trans and gender nonconforming visibility, and their unique take on non-binary clothing design.
Aside from producing adorably queer products, like this featured shirt's take on unifying LGBTQ communities around the importance of personal pronouns, Phluid Project hosts many mixers and panels highlighting the voices of some of the most notable TGNC stars of today.
In an era where many queer artists are opting to demystify the sexualization of queer bodies with overt imagery, Grace Allison Perkins is a talented illustrator and writer taking a thoughtful approach to her comic book artistry. The goal is to "create engaging work that positively represents queer love and masculine intimacy without over sexualization, while emphasizing the importance of companionship in a life partner," she said in an interview. At a time where we could all use a little more tenderness, this is a refreshing approach to queer storytelling.
No stranger to the Mic queer gift guide, we still can't help but love what the team over at Gaypin' are doing to shine light on queer creators everywhere. They work closely with many well-known artists, designers and illustrators to create their distinct brand of uniquely and unapologetically gay accessories for every outfit.
On why it's important to them to share their spotlight with so many different queer creatives, the founders told us: "Voices and work of any marginalized person deserve to be lifted up, supported and heard. Queer people have a lot to say in their work, and supporting that is building a future where a person's gender or sexual orientation is less important than their heart and brain (or ideally not important at all)." So to support this company is to support the art of many different creators? Take our money.
Also no stranger to the gift guide as a featured artist in 2017, this is Zach Grear. For anyone local to Brooklyn, you'll likely know of Zach, or at least recognize his clothing line, Boy Division. Dressing the city's most rebellious queer artists, activists, and some of the city's most vocal social media personalities, Zach is notorious for capturing a uniquely raw energy and angst in his work.
An homage to the generations of queer activists who came before him, his Queer Theory hoodie is adorn in statements about what being queer is, and still somehow seems to be the perfect gift for anyone who wants to define what "Queer is…" for themselves. On non-queer companies profiting off of the queer dollar, he said this: "Researching who is behind 'queer goods' is always necessary; more often than not you can see right through brands that simply slap a rainbow on an item as opposed to queer artists who are creating work based on a vital part of their identity.
In case you haven't heard, Tomboy X is the brand creating buzz with its editorial-style promotional campaigns, demonstrating an intent to showcase a diversity of bodies, whether that be in race, gender presentation or size. At a reasonable price point and in cute designs, Tomboy X's holiday line of underwear is cost-effective and adorable to say the least.
To any readers that are also RuPaul's Drag Race fans (and we think there might be a few), you might recognize this gift as Monét X Change was seen touting this tote bag around the You-betta-werk room during season 10 of the show. Now selling to the masses, you can finally pick up one of these bags for yourself.
Borrowing from the source of his exposure, Eric Rickert, designer behind Totes Gay USA, had this to say on supporting queer artists: "If you can't support your family, why ... would anyone else support us?" These playful tote bags add a sense of humor to any outfit for any outing, and they have many more to choose from than just this one.
If you've been sleeping under a rock, you might not be familiar with queer, feminist apparel shop Otherwild, but there's no time like the present. Aligned with all of the "other" in the world, Otherwild has found thoughtful ways to utilize their unique attitude to provide a platform to the bold. While their clothing speaks to the strength and power behind alternative thought, the tone of their work may even speak to the rebels in fashion interested in challenging the systems of oppression that hold us down.
A strong example of this are Otherwild's Gay Power tees, inspired by the political activists of years past. When gift giving this year, offer this tee to the powerful gays in your life to show them how much you value their strength.
Illustrator Kyle Anderson has had quite a year, frequenting marketplaces throughout his hometown of Brooklyn, New York, with his uniquely cool take on queer storytelling under the name Doable Guys. "Three years ago a friend and I decided to put together a little collection of homoerotic art called Doable Guys with a goal of diversity of subject matter, art styles and artists themselves," he said in an interview.
Now in its third volume, it has become an annual release. All the artists donate their work and all proceeds from the anthologies go to the LGBTQ charity GLSEN. A master of the cartoon-like comic book format, his new book Doable Guys Art Anthology: Volume 3 is sure to make an impression. As a follow-up to the first two volumes, this book's true value lies in demonstrating Kyle's growth as an artist. If anyone you know takes interest in the male form, the Doable Guys perspective is sure to be one they would appreciate.
With a signature psychedelic style, RocioArt is a one-stop shop for fans of queer club style. The jewelry Rocio produces is far from traditional, each piece having a cartoon-like sense of humor to them, and yet, somehow, each works as an accent of flair to almost any outfit. No joke, there's a remarkable amount of versatility in what she can produce.
"It takes a certain amount of strength to wear my pieces, I think the same type of strength it takes to embrace your queerness," Rocio said in an interview. And, as if that wasn't enough, Rocio's prints are stunning pieces of studio art that speak to her perspective as an artist who openly and candidly discusses navigating mental health challenges as a part of her brand messaging. Be sure to follow Rocio on Instagram to follow the process of her art making and her conversations with fans.
At first glance, most casual fans of Adam Chuck's would describe his work as sexy portraits of men on Instagram, but his work goes so far beyond simple portraiture. Upon further examination, you can see his use of mixed media in each portrait, masterfully demonstrating technique with his unique approach of using oil to paint the image onto canvas, highlighting negative space with holographic foil, then going in to adjust detail and shadow.
"The work I make is my view of our world; all of my paintings are based off of photos that are mostly amateur selfies, but those that have taken the time to make the composition and aesthetic of the image perfect, but simply for validation on social media. I look to catalog the trends of self-representation online today, through my paint, to elevate it to something more, and to examine the way that we represent ourselves online as we are at a very social media heavy time in history," Chuck said in an interview. On top of this powerful insight, these oil paintings would make for a fantastic holiday gift for someone who appreciates edgy queer portraiture.
Hyacinth by Dennis Moran ($10)
Author, designer and Illustrator Dennis Moran is a wizard of short-form storytelling. His most recent release, an eight-page graphic novel called Hyacinth is a modern adaptation of the story Metamorphoses by Ovid, telling the myth of the hyacinth flower in Greek Mythology. "A recent trip to Greece and re-reading Metamorphoses by Ovid inspired me to create this comic re-telling the tragic romance of Apollo and Prince Hyacinth," he said in an interview. (Please note that while this might sound like a charming read, the book does contain sensual themes as indicated on Dennis' store, so please consider this when purchasing gifts for younger fans.)
Famous for his brand of photography featuring fluorescent backdrops and his distinct style of male model, Warrenpiece has put out another carefully curated annual calendars to get us through 2019. For those who haven't had one of Warren's calendars in the past, expect stunning art direction, curated monthly content, and a sophisticated point of view. When asked about supporting other queer artists, Warren said, "I never had a mother, father or family to speak of until I met my queer families in [New York] and [San Francisco]. It is important for me to strengthen my own queer family and support those who typically don't have support anywhere else."