Yet again, 'The Great British Bake Off' shows us the world we want to live in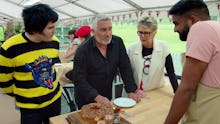 The latest season of The Great British Bake Off — styled as The Great British Baking Show on Netflix, where it now airs in the U.S. — premiered on the streaming service Friday. And yet again, the reality competition series shows us the most comforting, idealistic version of our world at a time when we couldn't need it more.
Much has been written about Bake Off's tone, which is both soothing and uplifting, and the way it has come to serve as a refuge for viewers who want to escape political turbulence, rising nationalism and other scary news. The Guardian called the most recent season of the show a "teetering edifice of delicious tiny morsels itself, held together by the sweet bonds of love, nostalgia and charm." In May, Charlotte Mendelson of the New Yorker wrote that Bake Off was "the undisputed zenith of British TV coziness" whose success "lies in its producers' realization that a combination of empathy and Schadenfreude make anything enjoyable to watch."
"One doesn't need to be a pastry pro to be gripped when arrogant Nigel's butterscotch-and-pear five-layer gingerbread torte collapses, or to care desperately that the single mother Sue recovers her self-esteem," Mendelson added. "I've been watching the reruns; they make life almost bearable."
The New York Times, picking up on the political ethos of Bake Off, called the show "a model of what the United Kingdom can be — with country grandmas and big-city immigrants sharing hugs and recipes in a makeshift kitchen in a white tent in a field."
For the uninitiated, The Great British Bake Off, which first premiered in the U.K. in 2010, is a baking competition show that pits amateur British bakers against each other to see who's the best baker of them all. But that description barely captures what actually makes the show so special. One noteworthy detail is the show's look: The bakers compete in a large white tent in an idyllic field, and shots of the competition are interspersed with footage of rain falling on nearby flower petals.
The contestants are generally kind to each other, passionate about baking and adorably tolerant of the hosts' endless baking puns. And, perhaps best of all, there's no prize money — contestants compete purely for the title of best baker (and a cake stand). This part may be the most unfamiliar to American audiences. In the U.S., reality television can feel dialed-up to 11. Every contestant has a reason they desperately need to win; every season has a villain; and exits are often bitter.
But none of that is true on Bake Off, which is so pleasant and understated compared to American cooking competitions that the difference between the two has become something of a meme.
The Great British Bake Off has held onto its spirit despite some shake-ups. In 2016, news broke that the show was moving from the BBC to Channel 4 in the U.K. With the move, hosts Mel Giedroyc and Sue Perkins left the program, as did judge Mary Berry. The three of them were replaced by comedians Noel Fielding and Sandi Toksvig, who took over as hosts, and Prue Leith, who joined as a new judge alongside veteran Paul Hollywood.
But this most recent season, which already aired in the U.K., retains the charm of earlier ones. The new hosts and judge are hitting their stride in their second seasons, and the contestants once again span a delightfully wide range of ages and backgrounds.
There's a stay-at-home dad who, in one episode, decorated a sugar cookie to honor the moment when he and his husband met their first child. There's a mom from Bristol who happens to have a physical disability — something she decided not to directly discuss on camera. There are also young immigrants from India and France, whom the judges celebrate when they decide to add flavors from their countries of origin into their traditional British biscuits and cakes. And, of course, all the contestants are wildly supportive of one another, even helping out their competitors at times.
As it has in past seasons, Bake Off continues to present a vision of the best we can be — not just for the U.K., but for all of us. The show offers an inclusive and good-hearted vision of the world wherein people are much more similar than they are different. And best of all, it's a world where hot, delicious baked treats are constantly being pulled out of ovens.