Viola Desmond, civil rights torchbearer, to be featured on new Canadian $10 bill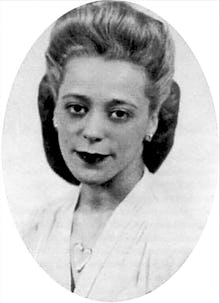 Black history is being commemorated in a major way by the Canadian government later in November. The new $10 Canadian bill, which features the face of late businesswoman and civil rights leader Viola Desmond, goes into circulation next week, according to CBC News. Desmond is the first Canadian woman to be featured on a Canadian banknote.
The announcement of the new Desmond bills was first made on International Women's Day in March by Canadian Minister of Finance, Bill Morneau, who detailed the legacy of Desmond's activism in Nova Scotia, Canada. Desmond, who was born in Halifax, Nova Scotia, persevered during the 1930s and 1940s despite the adversity she faced as a black woman during that era.
"Viola was tireless as she chased her dreams, traveling far and wide to pursue an education when local beauty schools would not admit black students," Morneau said. Desmond continued her education at beauty schools in the U.S. "With courage, hard work, and an entrepreneurial spirit, Viola set up her own studio, her own school and her own line of beauty products," Morneau said.
Desmond's business was called Sepia Beauty Products and her offerings included press oil, face powder, perfume, lipstick and hair dye, per a vintage ad in the Nova Scotia archives.
According to Morneau, Desmond is best remembered for refusing to move from a seat in a segregated movie theater in New Glasgow, Nova Scotia, in 1946. Police reportedly grabbed her arms and dragged her out of the theater. She was arrested and convicted, but returned to court to fight the charge. Although she lost her case, her efforts started a movement to end the discrimination against black people in Canada. By 1954, segregation was ruled illegal in Nova Scotia. Desmond, who died in 1965, was posthumously pardoned in 2010.
"Her legal challenge galvanized the black community in Halifax's North End, and paved the way for a broader understanding of the importance of human rights across the country."
Canada isn't the only country bringing much needed diversity to the faces featured on its currency. The U.S. Department of Treasury announced in 2016 that abolitionist Harriet Tubman would be the face of a new $20 bill. Additionally, the back of a revised $10 bill will feature imagery of suffragists Sojourner Truth, Lucretia Mott and Susan B. Anthony. There was also an update to the $5 bill, which will be dedicated to historic moments at the Lincoln Memorial, such as Martin Luther King Jr. speaking at the March on Washington.
Back in 2016, former Treasury Secretary Jacob J. Lew stated that the redesigned $10 note would be the first to go into circulation. He also "directed the Bureau of Engraving and Printing to work closely with the Federal Reserve to accelerate work on the new $20 and $5 notes." Mic reached out to the Department of Treasury for an update on when the $20 and $5 notes would go into circulation and will share any news once it is available.