This man wouldn't stop holding up Trump signs at Disney — and now he's banned for life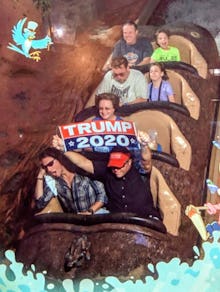 At first, political protests found their way into restaurants and bars. But even the happiest place on earth isn't safe from political messaging.
Fox 35 in Orlando reported Tuesday that a supporter of President Donald Trump has been banned for life from Disney World for flying a pro-Trump sign on one of its attractions.
New Yorker Dion Cini, the Trump supporter in question, was photographed waving a Trump 2020 banner while riding Splash Mountain. Cini was escorted from the park soon after the photo was taken and was subsequently banned from all Disney World properties, including its theme parks and affiliated resorts.
"I'm for America and Trump loves America and that's my mission for now," Cini said in a phone interview with Mic.
Cini had been a Disney season pass holder for 26 years, according to Fox 35, and this wasn't the first time he was told to stay away from the parks. In September, he was banned from Disney properties for hanging a Trump re-election banner within the Magic Kingdom theme park. He shared the video of his feat on Facebook.
Cini was later allowed back into the parks so long as he refrained from hanging flags or banners that could potentially "incite a crowd," he said.
In another splashy stunt in 2017, Cini told the New Yorker he planned to row the Hudson River parading a pro-Trump flag every weekday until Trump's re-election.
Cini said the stunt at Disney World was largely a guerrilla marketing tactic — and perhaps only the start in his efforts to support Trump.
"I'm trying to encourage people that you don't just have to go to rallies because nobody really cares about the rallies," he added. "But they care about the little things when one person makes a big impact doing something different and outside of the box. People just go crazy for it. That's how viral marketing works — and there's other fish in the sea."