How an Iraqi refugee and a Trump supporter became unlikely friends — and changed each other's minds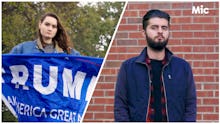 Maggie Anderson wants you to know that she no longer supports President Donald Trump.
Anderson, a 19-year-old college student who grew up in a Catholic conservative household in Traverse City, Michigan, supported Trump during the 2016 election due to his tough stance on Muslim refugees. At the time, Anderson believed that Muslim refugees would bring terrorism and extremism into America.
"I would believe that with a giant influx of refugees, rape statistics would go up and terrorism would occur," she told Mic in an interview. "I didn't think of them as people."
But everything changed over the summer, when Anderson unexpectedly met a Muslim refugee named Bnyad Sharif.
The two agreed to participate in a photography project called Be Unafraid, organized by Catholic Relief Services and photographer Jeremy Cowart. Although they did not realize it when they signed up, the project's aim was to bring together refugees and Americans to share their stories.
Coming out of the project, the pair decided to stay in touch, and Anderson told Mic that hearing Sharif's heartbreaking story altered her perspective on refugees and Trump.
Sharif, a 21-year-old who grew up in Iraqi Kurdistan, and his family received visas to resettle in the United States shortly after Trump's election. But they were denied entrance due to an executive order issued by Trump banning Muslims from entering the country. The family was detained at the airport in Cairo and forced to return to Iraq.
But the story of Sharif's family received widespread media attention because his father worked as a translator for the U.S. government in Iraq. Eventually, after public outcry, Sharif's family was granted an exemption by the government and permitted to resettle in Nashville, Tennessee.
Hearing Sharif's story has changed Anderson's perspective — and her life. Today, she says she is working to save up enough money to receive a law degree. Her dream is now to become an immigration attorney and fight for cases like Sharif's in the future.
"I've changed people's minds against refugees," Anderson told Mic. "I feel morally obligated to undo that."
Both Anderson and Sharif told Mic they have learned from one another, and believe their story offers a broader lesson to Americans that it's still possible to find common ground despite the polarized political climate in the country.
"People should not think it's that rare," Sharif said. "It takes for you to put aside your biases and take somebody as a human and go through the journey together."
Check out this episode of Mic Dispatch above — only on Facebook Watch.
To catch future episodes of Mic Dispatch, follow Mic Dispatch on Facebook Watch. For more stories about the show, visit the Mic Dispatch collections page.