"She was arrested for doing her job": Georgia senator arrested at voting rights rally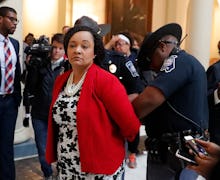 Georgia state Sen. Nikema Williams was arrested Tuesday at a rally at the state's Capitol building, where she joined activists to demand the counting of every ballot cast in the state's razor-close governor's race between former Secretary of State Brian Kemp and former state Rep. Stacey Abrams.
Williams, who was was one of several protesters taken into custody, said she was arrested because she "refused to leave the floor of this building where I'm a state senator," the Associated Press reported.
Abrams, who has so far refused to concede the race, recently filed lawsuits to try to ensure more absentee and provisional votes are counted.
Kemp currently leads Abrams 50.3% to 48.8%. However, should Kemp's margin fall below the 50% threshold as vote tallying continues, a runoff would be required.
Democrats in Georgia are standing by Abrams and Williams, whom they said was arrested for "standing up for her constituents' right to peaceful protest and advocating to count every Georgian's vote."
"In short, she was arrested for doing her job where she works," DuBose Porter, chair of the Democratic Party of Georgia, said in a statement. "We stand with her and with all Georgians whose constitutional rights are at risk. The Democratic Party of Georgia will continue to fight every day to make sure every Georgian's vote is counted and every Georgian's voice is heard."