Mic Daily: Georgia senator arrested at voting rights rally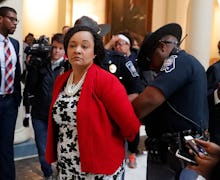 Happy Tuesday, everyone. Here are the top five stories out of Mic today, including a particularly fascinating one about a vocal Trump supporter who got banned from Disney World.
The lame duck congressional session is here — these are the issues that will dominate
With just a short time left until the newly elected members of Congress show up in Washington, D.C., the clock is ticking for those who lost their re-election bids to vote on last-minute policy proposals. Read more.
This man wouldn't stop holding up Trump signs at Disney — and now he's banned for life
Fox 35 in Orlando reported Tuesday that a Trump supporter has been banned from Disney World for life. Mic tracked him down. Read more.
"She was arrested for doing her job": Georgia senator arrested at voting rights rally
State Sen. Nikema Williams was arrested Tuesday at the Georgia Capitol building for participating in a rally urging officials to count every ballot in the state's contentious race for governor. Read more.
7-Eleven may be outing its undocumented workers to ICE
Recent reports suggest 7-Eleven is actively reporting franchise owners — some of whom, suspiciously, have been critical of the company — to U.S. Immigration and Customs Enforcement. Read more.
Yet again, The Great British Bake Off shows us the world we want to live in
And now, here's something a bit sweeter in honor of a new season of The Great British Bake Off, which hit Netflix on Friday. Read more.
Mic Daily is Mic's newsletter that cuts through the noise and lands in your inbox every weekday. We carefully curate each edition to send you a cross section of our most vital stories of the day.