Hype Daily: 'Game of Thrones' gets a premiere date for season 8 and more entertainment news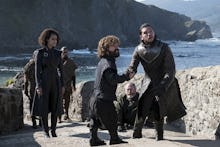 Good morning, Hype Daily readers. In case you haven't heard, it's hump day. That's right, the hump of the week. After this, it's all easy riding into the weekend. Anyway, let's check out the day's biggest headlines from the entertainment world.
Game of Thrones will premiere its newest season in April
HBO's fantasy juggernaut Game of Thrones finally has a premiere date for its next season. The show's eighth and final season will premiere in April, the network revealed on Tuesday.
The premiere was announced in a new teaser video that recaps highlights of past seasons and the various twists and turns the plot has taken. If you really want to be prepared for the next season though, you only have five months to rewatch the entire series, so get going.
Paz de la Huerta filed a lawsuit against Harvey Weinstein
Actor Paz de la Huerta filed a lawsuit against former movie mogul Harvey Weinstein, alleging Weinstein raped her multiple times, and that her encounters with him have had lasting negative effects on her, the New York Times reported on Tuesday. De la Huerta's lawsuit also alleges Weinstein interfered with her career after he assaulted her and had a hand in getting her fired from the show Boardwalk Empire.
De la Huerta first went public with allegations against Weinstein a year ago in an interview with Vanity Fair where she described two alleged rapes in New York City. Weinstein's lawyer, unsurprisingly, slammed the new lawsuit, calling de la Huerta "an unstable personality with a vivid imagination," according to the Times. Weinstein, by the way, has been accused of sexual misconduct by more than 80 women who have said he harassed, groped, touched, assaulted or raped them.
Cardi B, Chance the Rapper and T.I. will judge a new reality competition show
Cardi B, Chance the Rapper and T.I. will all star as judges on a new hip-hop reality competition show for Netflix, Variety reported on Tuesday. The show, titled Rhythm + Flow, will reportedly be structured like a typical music competition series — which probably means the judges will sit in gigantic leather chairs facing the stage — except it will focus exclusively on hip-hop.
Auditions will happen across the country, so aspiring rappers take note. Rhythm + Flow is set to begin in fall 2019.
Temptation Island is getting the reboot treatment
Has the reboot frenzy led us to backslide into the trashy reality television of the early 2000s? I guess so, because Temptation Island is coming back. According to the Hollywood Reporter, USA Network has ordered a 10-episode run of the reality series, which originally aired for three seasons on Fox.
In case you don't remember, Temptation Island takes couples on the verge of breaking up and drops them on an island full of single people to "test" their relationship or something. It's a recipe for drama, tears and making out, so get ready.
Put this on your radar: Widows
Need a movie to see this weekend? How about Widows, which comes out on Friday. The heist thriller from director Steve McQueen stars Viola Davis as the leader of a gang of women whose male partners are all gone — forcing them to team up and pull off a heist themselves.
In a recent interview with Mic, McQueen talked about taking on a genre movie: "I think conventions are there to be broken. So anyone who tells you like, 'This is how you make a Western, this is how you make a heist movie, this is how you make a mobster movie,' are kidding themselves. There are no rules. The only rules are there to be broken or to be revalued and reset. That's it. Otherwise, you're just making the same movie all the time. It's nonsense."
The reviews have been very good so far: Rolling Stone recently called the film a "raw, resonant thriller. The screen damn near explodes as [McQueen's] genre caper suddenly encompasses a whole social strata (race, class, politics, gender). You're in for a hell of a ride." Check out a trailer here.
This has been Hype Daily, Mic's morning entertainment roundup. It's everything you need to catch up on in the entertainment world and what to look forward to today. Want to receive this as a daily email in your inbox? Subscribe here.