These students had to jump through hoops to vote — if they were able to vote at all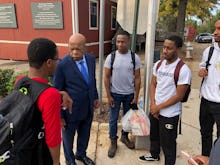 Young voter turnout surged in Georgia during the 2018 midterm elections, playing a decisive role in the razor-thin margin in the as-of-yet-undecided gubernatorial race between Republican Brian Kemp and Democrat Stacey Abrams. Despite the historic turnout, young Georgians report widespread issues with absentee ballots as well as being turned away or given provisional ballots at polling places on college campuses throughout the state.
Reuters reported that Georgia's turnout of voters under 30 was over four times higher than in 2014, with early and absentee voting by young voters increasing by more than 400%. Young voters in Georgia also overwhelmingly supported Abrams, likely giving the Democratic candidate a much needed boost in a deeply red state. Voters under 30 preferred Abrams to Kemp by 27 percentage points.
Many young people nevertheless had to jump through hoops to make their votes count — if they were able to vote at all. Several lawsuits related to allegations of voter suppression have been filed in the aftermath of the elections. On Nov. 6, Election Protection, a voter hotline organized by the Lawyers' Committee for Civil Rights Under Law, received 31,040 calls across the country. Between Wednesday and Friday, they received another 4,000 calls, according to Derrick Robinson, director of communications. He said that they won't have data on how many cases were resolved until December.
On Friday, the NAACP sent a letter to Georgia election officials requesting an investigation into reports that Georgia student voters were turned away from polling stations at Albany State University, a historically black university.
"I was surprised and dismayed at the numerous complaints we received from ASU students, many of which stated they could not vote because the poll workers stated they were not on the voter's list," Phyllis Thomas Blake, president of the Georgia chapter of the NAACP, said in an e-mail to Mic. "One of the attorneys in our command center in Election Protection did manage to assist two students to vote after notifying the Board of Election supervisor. Other students completed provisional ballots. A complaint letter from the NAACP general counsel was sent to both the secretary of state office and the Dougherty County election supervisor.
On Election Day, the NAACP of Georgia also won a lawsuit in Atlanta to extend voting times at two polling places near Spelman College and Morehouse College, also both HBCUs, due to long lines and voting machine failures. The Abrams campaign also filed on Sunday a class action lawsuit on behalf of more than 1,000 voters, many of whom were students who cast absentee and provisional ballots.
"Reports of voter suppression at Georgia's HBCUs are troubling and no surprise," Lauren Groh-Wargo, Abrams' campaign manager, said via email. "Despite our campaign's best efforts to assist voters, irregularities and confusion perpetuated by the secretary of state prevented too many young people from casting a ballot. These suppressive tactics are reminiscent of the old South – tactics that Brian Kemp used with impunity while abusing his office to influence the election."
Jasmine Browner, a junior and the president of the NAACP campus chapter at Albany State, told Mic that her organization, along with other student clubs, had been very active in preparing students to head to the polls. While she personally had no issues voting, she saw a lot of students walking out of the polling places on campus without "I'm A Georgia Voter" stickers. "I noticed that they were looking a little discouraged and that's when I was informed that many of them weren't able to cast their ballots," Browner said.
Albany State students faced a range of issues. "We had someone who was registered here in Dougherty County, but she went to a different precinct and instead of being able to cast a provisional ballot, she was told she had to go to another precinct," she said. "We had people who voted in the 2016 election, at the same location, under the same name, and they were being told that they weren't registered at all, or they were registered back at home. We had some people who never received their absentee ballot."
Browner knows of at least two dozen students who were impacted, but she suspects the number is higher. "We compiled a list of students who were not able to vote, who knew they were registered to vote, who could verify they was registered to vote and they weren't able to do so," she said.
Albany State freshman Jonelle Russell would have been a first-time voter. She said she originally registered in Savannah, but decided to vote in Albany during a campus registration drive in August. First she was sent from one polling place on campus to another, and was then told she wasn't registered to vote in Albany — she would have to go back to Savannah, which is four hours away by car. She told Mic that many of her classmates have similar stories.
"It was upsetting because I really wanted to vote. I tried three times to vote and they wouldn't let me," she said.
According to Georgia law, voters should be allowed to cast provisional ballots in precincts in other than the one in which they are registered. Guidelines for poll watchers note that "no eligible voter should leave the polling station without casting a ballot — either normal or provisional — unless they are going to their correct precinct. If a voter has a good-faith belief that they are registered, and meet the legal criteria to vote in Georgia, they should be offered a provisional ballot."
In Atlanta, Alexis Rhodes spent the day observing voters at Booker T. Washington School as a volunteer poll watcher. The high school was one of the polling locations closest to Spelman and Morehouse. "The main issue I saw was [that] an inordinate number of Spelman students, and some [from] Morehouse, were coming in saying they had registered, mostly at events that had happened in August and September, and [the poll workers] could not find them on the list," she told Mic.
She said that 76 individuals had to vote provisionally at Booker T. Washington, which accounted for about 8% of all voters at that polling station. At one point, the location even ran out of provisional ballots. Following the election, Spelman president Mary Schmidt Campbell sent out a letter urging students to ensure that their absentee and provisional ballots had been counted.
In addition to the issues plaguing university polling places, many students studying out of state said they never got their absentee ballots — and others had them rejected due to Georgia's strict signature match law. Some students even went to heroic efforts to vote in person after failing to receive their absentee ballots despite multiple attempts to request them, they said. Sam Shields, a graduate student at Union Presbyterian Seminary in Richmond, Virginia, crowdsourced money for a last-minute plane ticket to vote in person after requesting three absentee ballots.
Other out-of-state students have similar stories. Alaina Mitchell is a junior biomedical sciences major at Auburn University in Alabama, two-and-a-half hours from her hometown of Snellville, Georgia. Like Shields, she said she requested an absentee ballot that she never received. She ended up driving home to vote in person on Nov. 6, hoping to make it back to Auburn in time for morning classes. Mitchell was initially turned away from the polls because the system showed she had requested an absentee ballot. She knew she should be able to fill out an affidavit attesting that she had not previously voted.
"When I told them [the poll workers] about the affidavit they looked at me like they didn't know what I was talking about. They were just like, 'No, the system is saying that you received your ballot and that you can't vote.' They were on the phone … trying to figure out what was going on…They were trying to make me do a provisional ballot," Mitchell told Mic.
She waited for an hour until poll workers found the affidavit and she was finally able to vote. "This election was big for me. I voted in the 2016 presidential election, and I had to be a part of the governor election in Georgia. I was like, 'I'm not missing this and I'm not leaving until I vote.' But not everybody has time for that," Mitchell said.
While Shields and Mitchell had to overcome significant hurdles to ultimately cast their ballots, other out-of-state students were not allowed to vote at all.
Kennedy Calloway, a junior at University of Tennessee in Knoxville who is registered to vote in Gwinnett County, said she requested her ballot on Oct. 31 and did not receive it until the morning of the election. She filled it out and sent it, but it had not yet been received as of Nov. 11. Calloway also tried to vote absentee in the 2016 presidential election, but she said her ballot was thrown out because her signature did not match that on her driver's license.
Gwinnett County — which has a majority minority population — has been plagued with issues related to absentee ballots. Two weeks prior to the election, a federal judge ordered Georgia election officials in Gwinnett, a suburb of Atlanta, to stop rejecting absentee ballots due to signature discrepancies. Approximately 53,000 absentee registrations were impacted in 2018, most of which were for minority voters. Gwinnett county voters are also part of Abrams' recent class action suit.
One of those affected was Tate Delgado, a sophomore at the University of Southern California. He requested an absentee ballot to be sent to his school address in Los Angeles, but instead a notice was mailed to his parent's home in Georgia. "My family sent it out to California. I opened it up and then I see that they've rejected my request for an absentee ballot, based on the signature mismatch law," he told Mic. "Because of the time it took,…there was no time for me to request a new ballot. I was unable to cast a vote before the election day, even though I am a registered voter."
Delgado, who is a public policy major, even spent the summer working on Abrams' campaign. "This was going to be my first general election and I was very excited to have a voice in that," he said.
"If all of the votes were cast and counted and it didn't turn out the way I wanted, that's a part of democracy and I accept that," Delgado added. "But I think that in this election it's very undemocratic that one side is clearly against everybody's vote being cast and counted. That's why I think it's more important now than ever to support candidates who believe in the right to vote."
Gwinnett is not the only county facing issues with absentee ballots. Nedghie Adrien, a doctoral student in epidemiology at Boston University, was similarly unable to vote. She said she requested her absentee ballot from Dekalb County well in mid-October. After calling the voter protection hotline on Nov. 2, she found out her ballot had been sent on Oct. 28. "I was told that it was unlikely that I was going to receive a ballot on time for the election. So the day of the election comes, I didn't receive my ballot. I still haven't," she told Mic.
Adrien describes the experience as a slap in the face at a time when there have been so many conversations around voter apathy and trying to get young people to the polls. "I think it sends a really dangerous message when people who are in my generation are interested in voting and it's either made really difficult or quasi-impossible. When we lack faith in our elected officials, it's because we don't feel that the results of the elections are reflecting our choices. I feel like I'm being silenced in a way that really frustrates me," she said.
Delgado and Adrien both flew to Georgia at the end of last week to share their stories during a press conference with the Abrams campaign. "I thought that it was really important to share my story and stand up against voter disenfranchisement," Delgado said.
Adrien has had several conversations with young people around dissatisfaction with the status quo and disenfranchisement of certain populations."Part of the reason why … I wanted to stand with them [the Abrams campaign] is that for me, it crossed party lines. I think it's so important to have every voice and every vote counted in this election if we are to move towards a system where everyone feels like an equal part of this process," she said. "I'm humbled to be part of that conversation."