Today in Trump's America: Democrats continue to flip House seats as more ballots are counted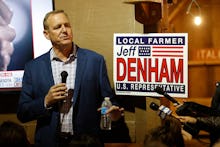 It's fear and loathing in the White House, as Trump stews about his party's growing midterm elections losses, a disastrous trip to Paris over the weekend and mulls whether to axe a number of administration officials.
There's not much on his public schedule for this chilly Wednesday, so expect some controversial tweets to drop.
Here's what's happening in Trump's America:
• Trump's day begins at 11:30 a.m., when he'll receive his daily intelligence briefing.
About last night: Democrats pick up yet another House seat
Democrats netted their 33rd House seat Tuesday night, when the Associated Press called California's 10th District for Democrat Josh Harder, who ousted GOP Rep. Jeff Denham.
Denham was a white whale of sorts for Democrats. The party tried to oust Denham from Congress since he was first elected in 2010 to no avail. It turns out 2018's blue wave was too much for Denham in this district, which Hillary Clinton carried by a 3-point margin.
Democrats also took the lead in California's Orange County-based 45th District, where Democrat Katie Porter now leads GOP Rep. Mimi Walters by 261 votes. More ballots remain to be counted and they are expected to grow Porter's lead, meaning Democrats are on track to win yet another House seat.
The party may also add California's 39th District, also based in and around Orange County. Democrat Gil Cisneros continues to cut into Republican Young Kim's lead — with the possibility Cisneros could also win.
Republicans have crowed about why the media didn't cover Kim's victory, as she would be the first Korean-American woman in Congress. But the thing is Kim has not actually won, and it's very possible she'll never actually make it to Congress as that historic first.
Meanwhile, in Maine, GOP Rep. Bruce Poliquin is suing over the state's use of ranked-choice voting — which could likely lead to his defeat. In Maine, voters rank their choices in each race, and if no candidate receives 50% of the vote or more, voters' second choices are factored in.
Poliquin currently leads his Democratic opponent by 1,910 votes in Maine's 2nd District House contest, but he is far short of passing the 50% threshold needed to win. And ranked choice voting could easily push the Democrat to victory, so Poliquin sued, claiming the ranked choice voting system is unconstitutional.
Of course, if Poliquin believed this voting system violated the Constitution, he could have sued before the election. Given voters made their choices based on a ranked choice system and may not have voted third party had this system not been in place, it's hard to see how Poliquin's lawsuit succeeds.
Today in Trump's America: House Republican leadership elections
Republicans are set to pick their nominees for their House leadership Wednesday afternoon.
Current House Majority Leader Kevin McCarthy of California is expected to easily put away his one opponent — House Freedom Caucus cofounder Jim Jordan of Ohio — for the job of House minority leader.
And the members seeking other top roles — House minority whip, GOP conference chair and chair of the National Republican Congressional Committee — are running unopposed.
In all, it's expected to be a drama-free affair. The nominees chosen Wednesday afternoon will come up for a vote before the full House in January, after the newly elected members of Congress are sworn in.
And the rest...
Staff drama: Internal strife among staff at the White House spilled into full view on Tuesday, when the first lady's office publicly called for a member of Trump's national security team to be fired.
"It is the position of the Office of the First Lady that [deputy national security adviser Mira Ricardel] no longer deserves the honor of serving in this White House," reads a statement from first lady Melania Trump's communications director Stephanie Grisham.
The feud between the first lady and Ricardel apparently stems from Melania Trump's trip to Africa in October, when they sparred over "seating on the plane and requests to use National Security Council resources," according to the Wall Street Journal.
Lawmaker arrested: Georgia state Sen. Nikema Williams was arrested on Tuesday at a rally in Georgia's state capital where she was demanding every ballot from the midterm election be counted. Williams said she was arrested because she "refused to leave the floor of this building where I'm a state senator."