All the dramatic ways cities begged for the Amazon headquarters deal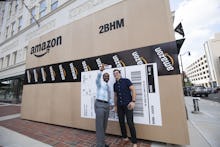 On Sept. 7, 2017, Amazon CEO Jeff Bezos announced his intentions to build a second headquarters for the behemoth internet company. It was posited as a challenge, a competition among cities across the United States and Canada to argue why they were the best fit for the honor of being declared "HQ2."
Cities prepared their offers like they were bidding to host the Olympics. Amazon promised to create 50,000 jobs with an average annual total compensation over $100,000 over the next 10 to 15 years, and anticipated an overall investment of $5 billion into the chosen city. Their request for proposals from cities was complicated and carried many requirements. Aside from seeking metropolitan areas with a certain amount of people, proximity to transportation, some empty buildings or other real estate and "optimal fiber connectivity" on-site — among many other needs — it also encouraged applicants to "think big and be creative as you are collaborating to respond."
Think creative they did. Over the next few months, cities and their mayors staged silly, dramatic or downright thirsty stunts to grab Amazon's attention. It all could have been funny if there weren't an undercurrent of desperation to the proceedings: These urban areas were begging a corporation for help, for an economic infusion that would change the lives of their citizens that the governments themselves were unable or unwilling to provide. The resulting mania was beyond cringe-inducing.
There were the videos. Oh, the videos. The mayor of Danbury, Connecticut, Mark Boughton, stood among Amazon delivery boxes in his office and declared, "I'm a proud Amazon customer. So, Alexa, where is the best place for Amazon to locate its second world headquarters?" When the robot voice replied Danbury, he Kanye-shrugged at the camera. "I told you so." Washington, D.C., mayor Muriel Bowser used the exact same concept in her painfully stilted video, except Alexa was more brazen in her reply here: "Obviously, Washington, DC."
Birmingham, Alabama, launched a campaign called "BringAtoB" as in Amazon to Birmingham, and then-mayor William Bell begged citizens to tweet with #BringAtoB. His team also installed massive cardboard structures, faux Amazon delivery boxes, around the city and encouraged folks to take selfies with them.
"The message we deliver has to be big — really, really big. Help us tell Amazon why our great city is the perfect location for their next headquarters," read signage near the boxes. Similarly, the city put up oversized Dash Buttons that would tweet at Amazon when pressed.
Sly James, the mayor of Kansas City, Missouri, filmed himself leaving product reviews on Amazon.com, and inside each he'd slide a little propaganda about the city. The most excruciating? He joked about how Fiber One cereal makes him poop and… added something about fiber connectivity in his city. "That's how we keep things moving here in Kansas City, home to some of the fastest internet connections on the planet thanks to more fiber per capita than anywhere else in the U.S.," he wrote. "Except for maybe in this box of Fiber One, which also really keeps me moving."
Little Rock, Arkansas, released a weirdly sad breakup video to pretend they didn't really want Amazon's business. An economic development group outside Tuscon, Arizona, sent a 21-foot saguaro cactus to Bezos, though the company rejected it.
On Tuesday, Amazon finally put these cities out of their misery and declared that Queens, New York, and Arlington County, Virginia, would split the headquarters. What stunts did those locations pull? Virginia governor Ralph Northam celebrated with a playful take on state's motto, "Virginia is for Amazon lovers," as part of his presentation of the Crystal City neighborhood, where murals wondering "why not?" and "what if?" were painted, along with real, dangling painted bicycles.
New York Gov. Andrew Cuomo lit up the city's monuments in "Amazon orange" and joked he would rename himself "Amazon Cuomo" if that's what it took to win.
Now that New York City has won, cynical New Yorkers have urged Cuomo to go through with the name change — or have at least made it clear he's not living down the designation anytime soon.