DOJ upholds Trump selection of Whitaker as acting attorney general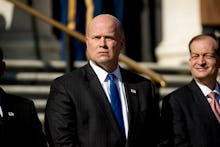 The Department of Justice on Wednesday upheld President Donald Trump's appointment of Matthew Whitaker to serve as acting attorney general, despite questions about the constitutionality of the move.
Critics had argued since he was chosen to replace former attorney general Jeff Sessions earlier in November that he cannot legally serve as acting attorney general because he is not a "principal" officer who has been approved by the Senate, and the state of Maryland on Tuesday formally challenged his appointment in court.
But the Justice Department on Wednesday countered that his appointment was "no more constitutionally problematic than countless similar presidential orders dating back over 200 years," and upheld the pick.
"Consistent with our prior opinion and with centuries of historical practice and precedents, we advised that the president's designation of Mr. Whitaker as acting attorney general on a temporary basis did not transform his position into a principal officer requiring Senate confirmation," assistant attorney general Steven A. Engel wrote in a 20-page memo.
Trump fired Sessions, one of his earliest and most ardent supporters, on Nov. 7 after more than a year of public broadsides over the former attorney general's decision to recuse himself from the Russia probe in early 2017.
He has drawn scrutiny for replacing him with Whitaker, a critic of special counsel Robert Mueller's investigation who will now oversee the inquiry.
Trump has responded by distancing himself from Whitaker, while also pushing back on criticism of his new acting attorney general by claiming that "they go after" anyone he selects to work for him.
"I did not know Mr. Whitaker," Trump tweeted on Nov. 9. "I feel certain he will make an outstanding Acting Attorney General!"
Before assuming his temporary position at the top of the Justice department, Whitaker served as Sessions' chief of staff. According to CNN, the administration had "requested oral advice on whether the president could designate a senior DOJ official to serve as acting attorney general" before Trump fired Sessions.
Democrats and other critics of the administration have called for him to recuse himself from the Russia probe, given his past criticisms of the investigation, but he reportedly has no plans to do so.