Why Serena Williams fans found her 'GQ' "Woman" of the Year cover problematic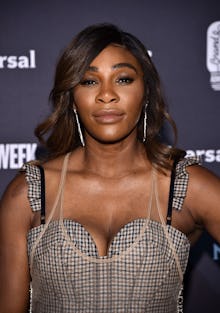 On Monday, GQ magazine rolled out its annual Man of the Year covers featuring 2018's biggest luminaries, including Michael B. Jordan, Jonah Hill, Henry Golding and Serena Williams, the woman of the year. But fans of the tennis champion questioned why the word "woman" was handwritten in quotation marks on her cover.
In last year's Man of the Year issue, which included a cover with Wonder Woman star Gal Gadot, the cover lines read "Wonder Woman of the Year," no quotations. So what message was GQ sending with this designation for Williams?
From the jump, GQ disclosed designer Virgil Abloh wrote the word "woman" in quotations. Abloh is currently the artistic director of menswear at Louis Vuitton and is the founder of Off-White, a fashion house he launched in 2013. Abloh has a tendency to use quotations on his clothing and sneaker designs. In a March interview with art and culture magazine 032c, Abloh stated he uses the grammatical marks on clothing items to "unlock the reality of what a garment is."
"It's Photoshop 3.0," he continued. "If I take a men's sweatshirt and write 'woman' on its back, that's art. You can use typography and wording to completely change the perception of a thing without changing anything about it."
GQ's research manager Mick Rouse also responded to a question posed about about the use of quotations by referencing Abloh's aesthetic. "Because it was handwritten by Virgil Abloh of Off-White, who has styled everything in quotation marks as of late (see Serena's US Open apparel that he designed)," Rouse tweeted.
Labeling clothing items to shape the perception of them is one thing. It's arguably different to apply this same method to a magazine cover shaping the perception of a person whose black female body has been subject to harsh criticism and shame throughout her career.
This is what some critics argued as Serena's cover made its rounds on the internet Monday and Tuesday. One critic responded to Rouse's aforementioned tweet by asserting the use of quotations could still be offensive. "That context definitely helps — it's definitely off putting especially for an athlete who has been critiqued for not being womanly/not a real woman in all sorts of racist and problematic ways."
Comedian and cohost of popular culture podcast The Read, Crissle West also chimed in. "In the context of Serena Williams, a person who has been mocked for her appearance and deliberately misgendered for years... this aint it, virgil."
In 2017, Williams described these experiences in a Reddit post.
"I've been called man because I appeared outwardly strong," Williams wrote.
"It has been said that I use drugs. (No, I have always had far too much integrity to behave dishonestly in order to gain an advantage.) It has been said I don't belong in women's sports — that I belong in men's — because I look stronger than many other women do. (No, I just work hard and I was born with this badass body and proud of it.)"