Trump EPA official Trey Glenn indicted on state ethics charges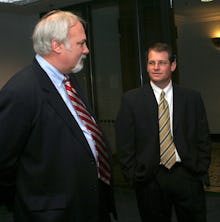 The Alabama Ethics Commission announced Tuesday that current Environmental Protection Agency official Trey Glenn has been indicted for conspiring to violate Alabama's Ethics Act.
Glenn currently serves as the Southeast regional administrator leading the EPA's Region 4, which covers Kentucky, Tennessee, North Carolina, South Carolina, Georgia, Florida, Alabama and Mississippi. He was appointed to the position in August 2017 by former EPA head Scott Pruitt, who has since resigned amid his own ethics scandal.
A grand jury in Jefferson County, Alabama, indicted Glenn on multiple counts of conspiracy and complicity to violate Alabama's Ethics Act, including charges of using an office for personal gain; soliciting and/or receiving a "thing of value" from a principal, lobbyist or subordinate of a lobbyist; and receiving money in addition to that received in one's official capacity. The charges were filed in conjunction with a separate indictment for associate Willie Scott Phillips Jr., who was indicted for violating the Ethics Act.
According to AL.com, the indictment stems from work Glenn undertook as a consultant prior to his EPA role, while registered as a lobbyist. A company run by Glenn and Phillips was hired to consult in an effort to stop the Obama-era EPA from naming a predominantly black area in North Birmingham, Alabama, as a "Superfund" site, which would prioritize the area for cleanup. The Drummond Company, which hired Glenn and Phillips' company through law firm Balch & Bingham, was one of the companies forced to pay for that cleanup.
The company's efforts to thwart the cleanup have been an ongoing source of controversy. Drummond Vice President David Roberson and Balch & Bingham attorney Joel Gilbert were convicted in July for their efforts to oppose the Superfund listing, including convictions for wire fraud, money laundering and bribing former state Rep. Oliver Robinson. Both Glenn and Phillips testified during the trial about their role in the Drummond Company's efforts.
Environmental groups have asked Glenn to recuse himself from the cleanup efforts in North Birmingham in his EPA role, citing his potential conflicts of interest from his involvement with the Drummond Company.
Even before the Superfund controversy, however, Glenn was no stranger to ethics charges. The now-EPA administrator previously came under fire while serving as the director of the Alabama Department of Environmental Management, where he was the subject of a year-long ethics investigation concerning his previous job leading Alabama's Office of Water Resources. A 2007 ethics complaint alleged that a public relations firm, which represented a firm that did work for the Office of Water Resources, paid for private flights for Glenn and his family to travel to Walt Disney World and Hilton Head, South Carolina. A grand jury declined to indict Glenn on those charges.
Glenn defended himself against the indictment in a statement released on Tuesday, calling the charges against him "unfounded."
"My family and I continue to appreciate the overwhelming support from our friends and the community," Glenn said. "The charges against me are totally unfounded, and will be vigorously defended. I am innocent and expect to be fully vindicated."