Hugh Jackman defends his friendship with Ivanka Trump, says she's "kind"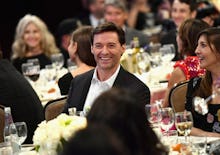 In a Tuesday appearance on the daytime talk show The View, actor Hugh Jackman defended his friendship with presidential daughter Ivanka Trump and her husband, White House adviser Jared Kushner. It made headlines in October when Trump and Kushner were spotted at Jackman's 50th birthday party.
And during Tuesday's episode of The View, host Sunny Hostin called him out for hosting the couple at his soiree. "You have been able to maintain your friendship by not talking about politics, is that the statement?" Hostin asked.
"I mean, I've known them for 15 years. Deb and I have known them," Jackman told the panel, referring to his wife, Deborra-lee Furness. "We're in a similar group of friends. They've always been so kind and generous and I can tell you handwritten letters that Ivanka's written to my mother-in-law when she won the Order of Australia that I didn't know about."
He went on to say, "People question, 'Oh really?' OK, let's say your friends of 15 years' father became president, whether you agree with the politics or not, do you just dump your friends? And I'm like no. I don't understand."
This isn't the first time Jackman has been questioned about his friendship with Trump and Kushner. At the premiere of his new film, The Front Runner, Jackman was asked about their relationship, and he also defended it by saying they've been friends for 15 years and don't talk politics together, according to Variety.
Ironically — or maybe not — Jackman's new film is all about the true story of Senator Gary Hart, whose campaign for president was derailed in 1987 by reports of his extramarital affair. The film is based on the 2014 nonfiction book All the Truth Is Out: The Week Politics Went Tabloid by Matt Bai, which posits reporting on Hart's affair changed politics forever and opened up candidate's personal lives to the public forum.
Jackman may be sticking with Trump and Kushner since they joined the White House staff, but that doesn't seem to be the case with some of the couple's other friends from their past lives. A Vanity Fair report from 2017 detailed the couples' increasing isolation as former friends ditched them because of their role in the Trump administration.
According to reports, former friends Natalie Portman, Emmy Rossum and Vogue editor Lauren Santo Domingo were once close with Kushner and Trump and have now all become vocal critics of the Trump administration. Portman has distanced herself from Kushner, a Harvard classmate of hers, telling Stephen Colbert in June that, "There's not a lot funny to say about someone you were friends with becoming a supervillain. So, it's not funny."
And Santo Domingo, whose Twitter bio reads, "GOP, the only party I'm not invited to," has called out her former friend Ivanka Trump on Twitter, including one tweet from March where she wrote, "In the end, it will be @realDonaldTrump and @IvankaTrump alone in the bunker...."
Apparently Jackman, however, has had no such issues with his friends' role in the Trump White House and is able to politely avoid the topic, as he keeps insisting on interviews.