Fox News to file a legal brief supporting CNN's lawsuit against the White House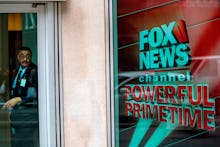 Fox News on Wednesday announced it is backing CNN's lawsuit against President Donald Trump and other senior White House officials, which claims the White House violated CNN and its reporter Jim Acosta's First Amendment rights when it revoked his press pass after a contentious news conference last week.
"Fox News supports CNN in its legal effort to regain its White House reporter's press credential," Fox News president Jay Wallace said in a statement. "We intend to file an amicus brief with the U.S. District Court. Secret Service passes for working White House journalists should never be weaponized."
The revocation of Acosta's press credential has raised the tension between the White House and reporters.
Trump has continuously called the media the "enemy of the people" and has specifically targeted CNN.
However, when the White House announced it was revoking Acosta's credential, using doctored video to falsely claim Acosta assaulted an intern during Trump's post-election news conference one week ago, the tension rose even higher.
The White House maintains it was within its right to revoke Acosta's credential and vowed to fight CNN's lawsuit — which is now gaining support even from a friendly media outlet like Fox News.
"We have been advised that CNN has filed a complaint challenging the suspension of Jim Acosta's hard pass. This is just more grandstanding from CNN, and we will vigorously defend against this lawsuit," White House press secretary Sarah Huckabee Sanders said in a statement on Tuesday.
And in a response to CNN's lawsuit, the White House claimed that, "No journalist as a First Amendment right to enter the White House."