Republicans elect Kevin McCarthy as House minority leader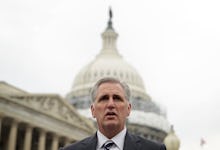 House Republicans on Wednesday elected Kevin McCarthy as minority leader, giving him the task of shepherding congressional Republicans through their newfound minority status.
McCarthy, who currently serves as House majority leader, defeated Ohio Republican Rep. Jim Jordan by a vote of 159 to 43, according to NBC News' Alex Moe — meaning McCarthy's win was not unanimous.
McCarthy will succeed Paul Ryan as Republican leader, as Ryan is retiring when his term expires in January.
Back in 2015, McCarthy was running for speaker, but unexpectedly withdrew from the race after whispers of "misdeeds." McCarthy's withdrawal from that race paved the way for Ryan to become House speaker.
After Ryan announced his retirement, McCarthy signaled his intention to run for House Republican leader — before it was clear that Republicans would be in the minority for the 116th Congress.