Prime real estate: New Yorkers protest Amazon's Long Island City arrival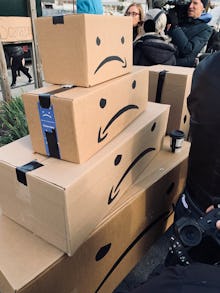 On Tuesday, Amazon announced Queens, New York, and Arlington, Virginia, would be home to the company's two new campuses, nicknamed HQ2. The announcement followed a yearlong contest, during which cities courted Amazon CEO Jeff Bezos by offering tax deductions and other perks to sway him in their favor. Now that Amazon has decided where it will set up camp, folks in one of the areas are speaking up.
Public officials and locals to Long Island City, New York, raised their voices Wednesday in protest of the company coming to Queens. As some have noted, Amazon's arrival could lead to displacement in this part of New York.
Amazon will receive $1.5 billion in combined incentives from the state and New York City if it hires 25,000 people and $1.7 billion if it hires 40,000. Incentives from the city could sway Amazon to create reportedly around 25,000 new jobs, though there's no guarantee those jobs will go to those already living in the area. The jobs run the risk of raising the cost of living in the area. If Amazon lives up to New York's incentive goals, the average salary of a job at Amazon will hover around $150,000.
Amazon has not announced when the campus will open. Even still, residents of Long Island City voiced their frustration with big tech entering the neighborhood.
New York City Council member Jimmy Van Bramer and state Sen. Michael Gianaris organized Wednesday's rally. Both public officials initially supported Amazon's move to New York.
"It's a horrible deal for New York City and it's a waste of $3 billion in taxpayer money to a company that doesn't need it," Gianaris said in an interview Wednesday. "It's not paying attention to the things we need — better subway, more affordable housing and more school space."
The senator addressed his change of heart on Amazon's arrival.
"I'm not against jobs, but I am against jobs that cost $3 billion in public money," Gianaris said. "If Amazon wants to come here without public subsidies and talk about how much money they're going to put into Long Island City, that's a starting point. Short of that, it's a no-go."